For black athletes, wealth does not equal freedom
In America, the public insists that "freedom" goes hand in hand with wealth.
Much of the country views America through a lens of desire and transformation, an open-minded, colorblind utopia in which wealth expresses equality and acts as a panacea for social and racial ills. Once a person achieves major financial success, or so the message goes, he or she will "overcome" the scourge of economic and racial inequality by truly becoming "free."
Parallel to this respect for this colorblind version of the "American Dream" is the belief that economic privilege requires patriotic gratitude. Across industries and disciplines, Americans are being told to uncritically love their nation, to be grateful for being exceptional enough to live in a country that empowers citizens to achieve astronomical heights of economic prosperity.
For the country's black citizens, often underneath the surface of these concepts is an additional racial presumption: the notion that black success and wealth require public silence on systemic issues of inequality and oppression.
These are strong and fragile ideologies that support the concept of the American dream, strong because they are encoded in the very fabric of American culture (most Americans, including African Americans, readily accepted these ideologies as supposed facts); but fragile because it is all too easy to see that one's economic privileges are a lousy barrier to both individual and systemic discrimination and oppression.
Consequently, blacks have also been among the most vocal opponents of these ideologies, as we saw most recently in the Colin Kaepernick and NFL #TakeAKnee demonstrations. In solidarity with the free agent quarterback, professional football players, the vast majority of whom are black, knelt as the national anthem was played to protest racial injustice and police brutality.
WATCH: NFL players unite in defiance and solidarity
Over the past few weeks, the President of the United States has again drawn attention to the internal tensions that define the American Dream ideology through his repeated public criticism of these kneeling NFL players.
"If a player wants the privilege of making millions of dollars in the NFL or other leagues," Trump recently tweeted, "he or she should not be allowed to kneel." Calling protesters' actions "disrespectful" to the country, flag and anthem, President Donald Trump called for players to be fired, backed an NFL boycott, insisted the league pass a rule requiring players to stand for the anthem, and ridiculed protesters as "sons of bitches" .
In a dramatic ploy more suited to a reality TV script, the President gloated that he had instructed Vice President Mike Pence to leave the Indianapolis Colts game the moment any player was on their knees. It was an orchestrated show of force and outrage meant to send a strong political signal, given that Trump and Pence knew ahead of time that on that particular day, the Colts were playing the San Francisco 49ers, the team that now has the most protesters. The NFL's announcement this week that the league has no plans to penalize protesting players was the latest development to anger the president; Entering social networks in the early morning, he once again equated kneeling with "complete disrespect" for our country.
As many have pointed out, the President's didactic outrage against NFL players is selective and deeply misguided—his apparent patriotic loyalty hasn't stopped the billionaire politician from criticizing the removal of Confederate statues, attacking the Gold Star family, or ridiculing a senator. Military service of John McCain.
NFL players and their quarterbacks repeatedly stated that the protests are meant to highlight racial inequality and oppression. They also explained that their decision to kneel came out of a desire to peacefully and respectfully protest after a long conversation with military veterans.
Trump has chosen to ignore these arguments and the structural issues of inequality that motivate the protests, and instead promote a narrative that is solely about overt displays of American patriotism and the "perks" of NFL players. By aggressively targeting NFL players, Trump believes he is "winning the culture war" by making black "millionaire athletes" his new [Hillary Clinton]".
READ MORE: As an "American sport", the NFL can't escape politics
It's a cynical statement that reveals the president's perception of the jingoism of his supporters, who see him as a champion of American values ​​and symbols.
Calling black protesters the antithesis of it all, Trump labeled the players as unpatriotic elites and enemies of the nation. For a president who has been constantly fiddling with domestic and foreign policy since his election, the culture has been between "hard-working" and "virtuous" white working-class and middle-class Americans and wealthy, ungrateful black footballers. I welcome public distraction.
Trump's attacks on NFL protesters are rooted in the competing tensions inherent in the American dream: wealth equals freedom; that economic privilege requires patriotic gratitude; and, most importantly, black personal economic prosperity nullifies their fears of systemic injustice and requires them to remain silent about racial oppression.
Among the detractors of the protesters, this has become a common line of attack, a means of belittling the activism of black NFL players by pointing out their sheer wealth. The fact that systemic racism is provably real, and that personal well-being does not make a person immune to racial discrimination, seems to escape the attention of protesters' critics.
Their discontent suggests that black athletes should be grateful to live in this country; that there can be no racism in America since black professional athletes are allowed to play and sign contracts for significant sums of money; that black players owe their silence to the nation because America "gave" them the opportunity and access; that black athletes have no moral authority in matters of race and inequality because of their personal success; and that the success of black athletes was never due to them, but was instead given to them and can just as easily be taken away.
This culture regarding black athletes is not new. Black athletes and entertainers have long been well aware of their special place in American society as individuals loved for their athletic and artistic talents, but they condemn the moment they use their public platform to protest systemic racial inequality. Parallels between #TakeAKnee protests and protests Muhammad Ali or John Carlos and Tommy Smith easily visible; there are also important similarities with the case Paul Robeson.
An outspoken civil rights activist, collegiate and professional football player, lawyer, opera singer and actor, Robson lost his passport in 1950 due to his political activism and speeches – actions that nearly ruined his career. The star athlete and entertainer "who demonstrated American upward mobility" quickly "became public enemy number one" as institutions canceled his concerts, the public called for his death, and mobs of Robson's opponents burned his images.
During a congressional hearing in 1956, the chairman of the House Un-American Activities Committee played a familiar refrain with Robson, challenging the artist's accusations of American racism and racial oppression. He claimed he saw no sign of prejudice as Robson was privileged, having attended elite universities and playing college and professional football.
READ MORE: Poll: Americans divided over NFL protests
Black athletes, even the silent ones, mostly understand that their economic privilege does not insulate them from the realities of racial discrimination. They also understand that their wealth and success are precarious and often depend not only on their athletic performance, but also on their silence on issues of racial injustice, especially those that appear to question the "American dream" or involve the American public in association.
So it's no surprise that Colin Kaepernick, whose protests turned him into a national pariah despite his on-field talents, filed a complaint against the NFL, accusing the league and its teams of blacklisting him because of his political beliefs. . "A principled and peaceful political protest," Kaepernick's lawyers said, "should not be punished, and athletes should not be denied employment on the basis of biased political provocation by the executive branch of our government." It remains to be seen whether the ostracized Kaepernick will win his grievances, but it is certainly telling that he and his attorneys base their claims on contested definitions of freedom and precarious economic privileges for outspoken NFL players.
In particular, for the most vocal and outspoken critics of black protesters, frankness is tantamount to high treason, an occasion for the harshest punishments. Perhaps they would do well to carefully read James Baldwin, who once said, "I love America more than any other country in this world, and it is for this reason that I insist on my right to constantly criticize her."
Warthog burrows into the ground to fight three lions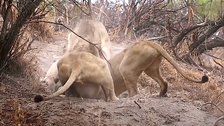 The warthog did not find shelter in his hole from the three attacking lions, but fought bravely. (The video of the meeting below may cause concern for some viewers.)
The big cats trapped the pig in its own burrow by grabbing its head while the predators played a deadly game of tug-of-war with their prey. Latest sightings noted in a video he shared over the weekend.
The warthog remained largely invisible in the video until it jerked upward as the lions yanked it, perhaps in a last-ditch attempt to break free. It failed.
"Unfortunately for the warthog, the lions were able to pull it out," said Juan Pinto, a videographer who filmed the scene in South Africa. "And within seconds, three lions collectively strangled and killed the warthog. The screeching and screaming suddenly stopped, and the bush instantly returned to its original calmness.
Warthogs are famous for their fearlessness, but "despite their bravado, they often fall prey to predators." place for safari.
One viewer on YouTube called the warthog's violent resistance "commendable". Another wrote that he deserved a "posthumous award" for standing up to the lions.
"The warthog fought to the very end," added another commenter.
Family of Colorado man killed by police during mental crisis receives $19 million settlement
DENVER (AP) — The parents of a 22-year-old Colorado man killed by a sheriff's deputy during a mental health crisis will receive $19 million from state and local agencies and changes to officer training under a settlement agreement announced Tuesday. .
The shooting of Christian Glass after his SUV got stuck in the mountain town of Silver Plum last year drew national attention and sparked calls for a change in government treatment of people with mental health problems.
As part of the settlement, Sally and Simon Glass also agreed on changes that they hope will prevent the loss of another family like them. Clear Creek County will set up a crisis response team and its sheriff's office will train and certify all crisis intervention assistants, according to documents released by their attorneys.
The State of Colorado, which had three officers at the scene of Glass's murder on June 11, 2022, in addition to officers from local agencies, will create a virtual reality training scenario for the Colorado State Patrol based on the shooting, which will focus on – Escalating stressful situations involving employees various departments.
A video message from Simon and Sally Glass will also be shown to State Troopers and Play Department Officers at the start of their active witness training. program focuses on encouraging officers to intervene if they think a fellow officer is going too far or needs to step back from an incident.
There were no instructions from body camera frames that officers from other agencies were trying to stop the car break-in before Christian Glass was shot.
Spectacles lawyer Siddhartha H. Rathod said they hope their story will help officers intervene if necessary.
"Any one of the seven officers could stop it just by saying something. They want to give law enforcement that kind of courage," he said of the shooting.
The settlement, also joined by the communities of Georgetown and Idaho Springs, is Colorado's largest in a police homicide case, exceeding the $15 million reached in 2021 for the death of Elijah McClain, and also ranks among the best in the USARathod said. His law firm, Rathod Mohamedbhai LLC, also represented the mother of McClain, a 23-year-old black man who died in 2019 after police in the Denver suburb of Aurora forcibly detained him and a paramedic injected him with the powerful sedative ketamine.
Former Clear Creek County Deputy Sheriff Andrew Buen, who shot Glass, and his superior, former Sergeant Kyle Gould, are charged with Glass's death. The grand jury found that they needlessly exacerbated the confrontation after he called 911 for help. According to court documents, Gould was not at the scene, but he watched the developments on footage from a body camera, and authorized officers removed the glass from his car.
Lawyers for both officers unsuccessfully tried to get the charges against them dropped. While Buena's lawyer objected to the way the information was presented to the grand jury, Gould's lawyer argued that Glass needed to be tested for drugs, alcohol, and mental health issues and could not simply be allowed to leave.
In response to police killings of people in a state of mental illness, reformers have pushed for crisis intervention and police training on de-escalation, and even alternative police programs where emergency personnel are sent instead of law enforcement to some emergency calls.
Some cities, including Denver, have programs that can send paramedics and psychiatrists instead of police. But in the area where Glass was killed, about an hour from Denver, that was not an option at the time.
Glass, whose car was stranded on a dirt road, first told a dispatcher that he was being followed and made other statements that the indictment said showed he was paranoid, hallucinating or delusional and having experienced a mental health crisis.
Footage from the officers' body camera shows Glass refusing to get out of the car, making hearts to the officers with his hands and praying, "Dear Lord, please don't let them break the window."
After about an hour of negotiation, the officers decided to break into the car, although the grand jury found there was no indication that Glass was a danger or suspected of a crime.
After the window was smashed, body-camera footage shows officers peppering the glass with bean bag rounds and then stunning it with a taser. According to the grand jury, Glass brandished the knife in "a state of complete panic and self-defense" before turning in his seat to plunge the knife into the officer's side. Buen then fired his pistol five times at Glass.
The grand jury found that the other officer was not in any way in "imminent danger of being stabbed to death by Mr. Glass".
"But in connection with Gould's decision to remove Mr. Glass from the car, there is no reason to believe that Mr. Glass would be a danger to law enforcement officials, to himself, or to any member of the public," the indictment says. said.
Body camera footage does not show officers from other agencies, including the Colorado State Patrol, the gaming division and police from the nearby cities of Idaho Springs and Georgetown, trying to stop the car being broken into.
When Glass's parents for the first time publicly called to account After their son's death last year, Sally Glass said Christian was "petrified" the night he was killed and the officers had no sympathy for him. She asked people to pray for her son and for structural changes in the police force.
"They should protect us, not attack us," she said.
Oscars, this blooper and the rare power of shock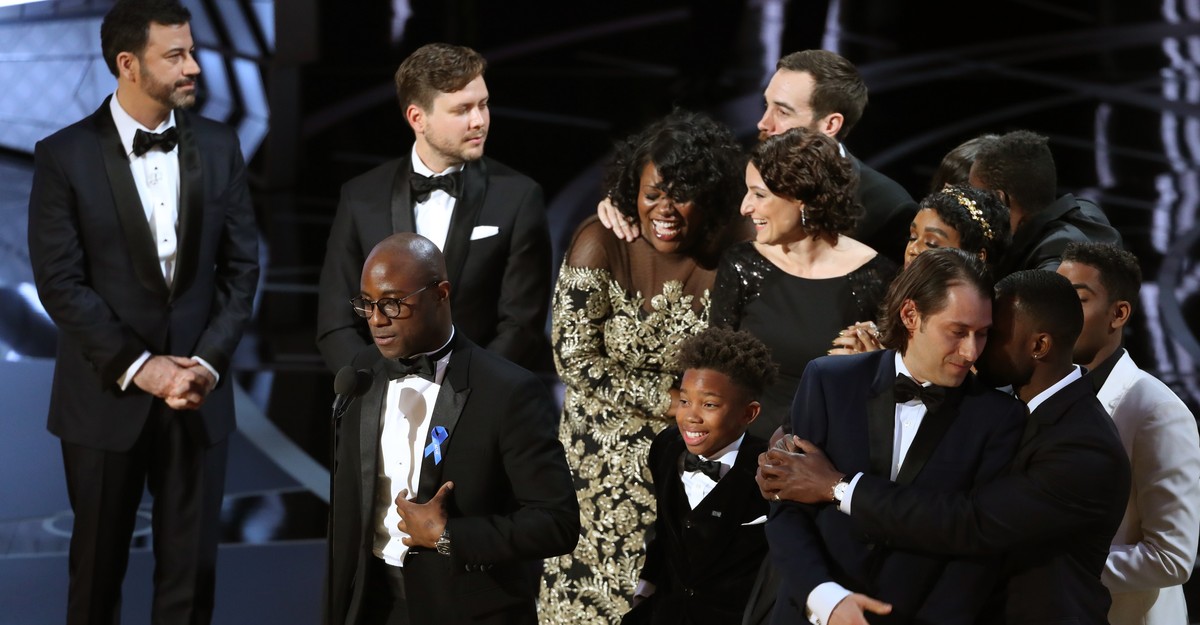 Last year, comedian Marc Maron brought in writer Chuck Closterman as guest on it WTF podcast. Two discussed a lot of things (including Kloosterman's then new book, But what if we're wrong?, which he was supposed to promote there), but one of them was sports – and the special excitement that he delivered to the public. Sports events, Klosterman argued, promise the most dramatic of all: an unknown outcome. Unlike other popular events—the Super Bowl halftime show, the Grammy Awards, and the Oscars—the main advantage of sporting events is that they are, by definition, unpredictable. Anything can happen inside them.
Fine. While you can say a lot about the Oscars on Sunday, you can't say that the brilliant awards show was boringly predictable. The 89th Annual Academy Awards closed audiences with a mix of confusion, shock, and total, deep delight as Warren Beatty and Faye Dunaway teamed up to announce the Best Picture winner and proceeded to – for behind-the-scenes error. , announce the wrong movie. Chaos ensued—and very, very good television. Weary East Coasters were called back to living rooms from their bedrooms on the grounds that "oh my god, you MUST see this." Twitter exploded with jokes about Bonnie and Clyde back in business, oh Schrödinger envelopethat "Dewey defeats Truman" becomes Oscar update. It was late Sunday evening and the unexpected happened in the most unexpected way, and it was all about how my colleague Adam Server well summed up, moonlit.
However, it was all also a reminder of how rare it was for audiences to witness collectively something truly unexpected. It was direct television with all the human error that live television can bring – chaos, correction, drama, grace – in its depths, but also in its heights. What happened on Sunday is about the same mechanics that gave the world all those left shark memes, and those tattoos of "Nevertheless, she persisted" and the term "wardrobe malfunction": "Oscars" caused concern instead of surprise. . The Best Picture gaffe became infamous overnight for much the same reason as its predecessors.
We know so much these days. We are, in fact, Certainly about politics, human psychology, Hollywood awards and the right ingredients for guacamole. At a time when Google has made so much information available instantly, knowledge has become an integral part of American cultural life. Oooh, this show must be great. This movie must be terrible.. Poke bowls are all the rage right now. Major cultural events such as the Grammys, Emmys and Oscars are in many ways the culmination of this position: we know exactly what to expect from them. We can communicate how they play out that everything went according to plan, because we knew from the very beginning what they were supposed to be; we can also make this report with a note of disappointment. After all, few things can be more boring than living up to expectations.
In that context, Beatty Dunaway's gaffe at the Oscars was a gift to viewers (and possibly future ABC viewership ratings). This was also Chuck Klosterman's remark to Maron that was both proven and wrong. It was the "anything can happen" logic of a direct sporting event applied to Hollywood's highest, most ceremonial, and most expectant rituals. It was powerful: at a time when it was so often taken for granted in the United States that "reality" was something that could be reproduced as well as experienced, the Oscar gaffe for Best Picture was a powerful reminder that Reality still has its own characteristics. own production values.
Yes, there was a blunder in many other ways: it's a shame for Moonlight, which so deserved to win the Best Picture nomination and whose victory threatens to be overshadowed by a mistake and the drama that follows from it. shame for la la country, whose producers delivered their acceptance speeches before learning that their "win" had been announced in error. A field day for photographers, both professional and non-professional, who captured reaction shots on stage and backstage, as well as among celebrity audiences. moment of grace like la la countryProducer Jordan Horowitz responded to Jimmy Kimmel's cheeky suggestion that everyone should win an Oscar with a politely cheeky line: "I'll be very happy to give this to my friends from MoonlightAnd, of course, the metaphor of slings and arrows for the 2016 election. Ratification of the current pop culture obsession alternate realities. A car for many, many jokes by Steve Harvey.
Basically, though, it was a twisting ending that seems to have come in the most twisted way: a shock that came not from the hands of a savvy producer, but from the hands of a bizarre reality. The twist ending may have been a defining feature of the events of 2016 and early 2017: the reality show that was the 2016 presidential campaign found that its pundit-approved leader had been defeated in the final episode; another underdog won in the 2016 World Series; Super Bowl LI declared the expected winners as winners, but only after its game went into overtime. However, their turns took place within the framework of events, the ending of which, by definition, was unknown. The Oscars were shockingly interrupted. It was an expectation, forced to be thwarted.
And so: it was so powerful, how little can be more in a world that knows so much and, in the end, expects so little. IN compose For Screen crush Erin Whitney argued last year that "Our culture is built on anticipation, when movies end with scenes teasing the franchise's next installment, never taking a moment to soak up what we've just seen." We talk about films years before their debut, we analyze TV plot twistsAnd expect albums for many years before hearing even one song." The whole process led, in Whitney's words, to "the slow death of surprise."
The best evidence of this may be the fact that marketers have lately been focused on surprising consumers – capitalism is doing its best to keep this particular kind of magic alive. V dropped album. V surprise TV show. V secretly filmed trailer. TV musical "anything can happen" live. They try to take over what Klosterman passed to Maron in that WTF Interview: "Sport is a connection with a true life force" – author put it down to the comedian. "It's not something anyone can control or record. It's an unknown thing." He added, "There's something really interesting about 'nobody knows' because you just don't experience it anymore."
You won't do it until you do – until that mistake makes its way to the most brilliant and most scenic of all Hollywood scenes. Sunday's miss for Best Picture not only has a cult following; this is also already the subject of conspiracy theories from a wide range of truthful Oscars that suggest that, among other things, the mistake was result of President Trump's revenge on Jimmy Kimmel; or prank arranged by Kimmel himself; or The Dark Deeds of Leonardo DiCaprio. They may have meaning; it is not yet clear how the wrong card ended up in the hands of Warren Beatty. However, they forget what Klosterman knows, and what all those enthusiastic spectators on Sunday knew with him: that the best conspirator is often the great ability of people to make big and dramatic mistakes.