When purchasing a new Windows laptop, it is important to change various settings and features to better customize the machine to suit your needs. One of these settings will be the choice of the default browser for opening web pages.
Most likely, the default browser is Microsoft Edge, which is not the first choice for many Windows users. For this reason, users may need to install a different browser such as Google Chrome or Mozilla Firefox. After that, you can choose which browser you want to be your default browser, and even customize the different types of files the browser can open.
Steps to Change the Default Browser in Windows
Choose Start, Settings, Apps, then Default Apps.
Choose your favorite browser
Choose "Set as default" next to the selected browser
Tools and requirements
Windows OS
The selected browser is already installed
Walkthrough
1. Select Start, Settings, Apps, then Default Apps.
Open the Start Menu, then select Settings, then select Apps, then select Default Apps. Once there, scroll down to the browser you want to make your default browser.
2. Select the desired browser
With the desired browser highlighted, select it to proceed to the next menu, named after the browser you selected.
3. Select "Set as Default" next to your chosen browser.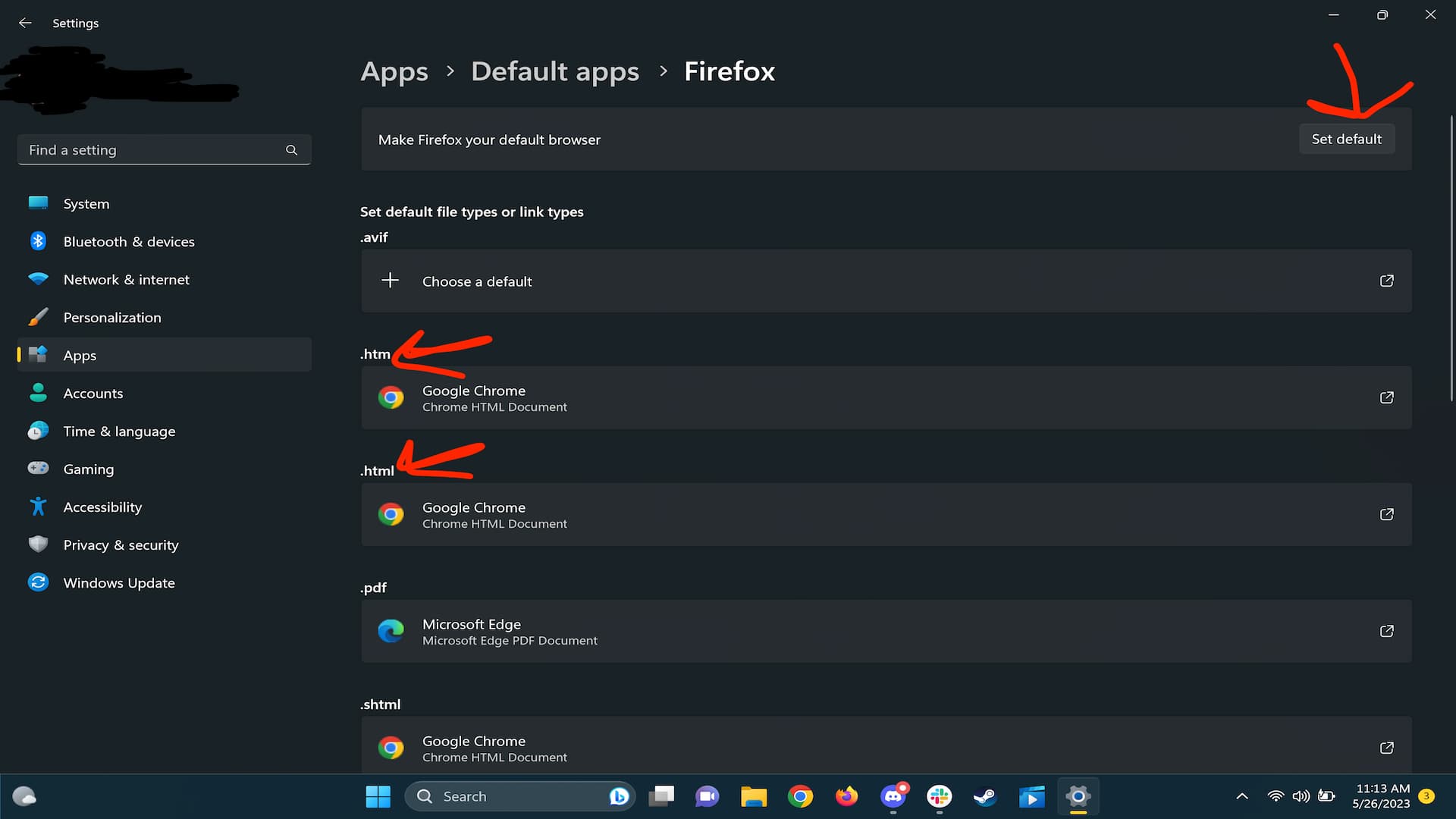 Click the "Set Default" button in the top right corner of the menu screen. This will automatically install .HTM and .HTML files (almost any web page) to open in the browser of your choice.
From this menu, you can also select other types of files to be opened this way, including PDF.
final thoughts
To change the default browser settings, first access the Settings menu through the Start menu, select Apps, and then Default Apps. After that, you will be taken to the menu screen with various programs. Scroll through them to find your browser, then select it, then choose "Choose Default". The handy part is that you can also select other file types to have your new default browser open as well.
If you want more Windows guides, you can learn how to install Windows 11, how to install Windows 10, and if you decide you want to go back to Windows 10, how to upgrade from Windows 11 to 10. Whether you're running Windows 11 or Windows 10, you can still use this guide to set your default browser,