Josh Harris Group Completes Record $6.05 Billion Deal to Buy NFL Commanders | Washington commanders
A group led by Josh Harris that includes Magic Johnson has agreed to buy the NFL's Washington Commanders from longtime owner Dan Snyder and his family.
The parties announced the deal in a joint statement on Friday, about a month after they reached an agreement in principle to sell for a record $6.05 billion.
The deal is the largest for a North American professional sports franchise, surpassing the $4.55 billion that Walmart heir Robert Walton paid for the Denver Broncos last year. It is still awaiting approval from three-quarters of the owners and other normal closing conditions.
"We are thrilled to have reached an agreement to sell the Commanders franchise with Josh Harris, a local native, and his impressive group of associates," Snyder and his wife, Tanya, said in a statement. "We look forward to completing this transaction as soon as possible and supporting Josh and the team in the coming years."
NFL spokesman Brian McCarthy said the league's staff and finance committee would review the details of the proposed deal. The owners will meet later this month in Minnesota, but they are expected to receive an update on the situation only then, with a formal vote expected in the coming months.
Snyder has owned the team since 1999, when he bought his childhood favorite team for $750 million and, despite mounting criticism, has repeatedly said he would never sell it. That changed after multiple League and Congressional investigations into Washington's workplace misconduct and potential financial improprieties. A congressional investigation found that Snyder played a role in the toxic culture.
Harris' group includes, among others, Washington billionaire Mitchell Rales, Basketball Hall of Famer Johnson and David Blitzer. Harris and Blitzer have owned the NBA's Philadelphia 76ers since 2011 and the NHL's New Jersey Devils since 2013.
"I am thrilled to be a partner in the proposed new Washington Commanders ownership group," Johnson tweeted. "Josh Harris has assembled an amazing group that shares a passion to not only do great things on the field, but to make a real impact on the community (in the Washington area). I'm so excited to get to work on bringing our vision to Commanders and our dedicated fan base."
Harris grew up in the Washington suburb of Chevy Chase, Maryland. He said he was thrilled that the team had won three Super Bowls and established a long-term culture of success.
"We look forward to formalizing our NFL ownership in the coming months and the opportunity to serve as responsible and accountable stewards of the Commanders franchise going forward," Harris said. "We look forward to leading a world-class organization and investing heavily in and out of the field to achieve excellence and make a lasting, positive impact on the community."
The first major challenge for the new owners for the long-term future of the organization is a new phase to replace FedEx Field, the team's rapidly completed home since 1997 in Landover, Maryland, which is not well outdated. Virginia dropped the stadium bill last year due to a number of off-field controversies around the team, though there are opportunities to build there in Maryland or D.C. on the site of the team's former home, RFK Stadium.
I'm in love with all these footballers, let's see if you agree "Break or transfer" On them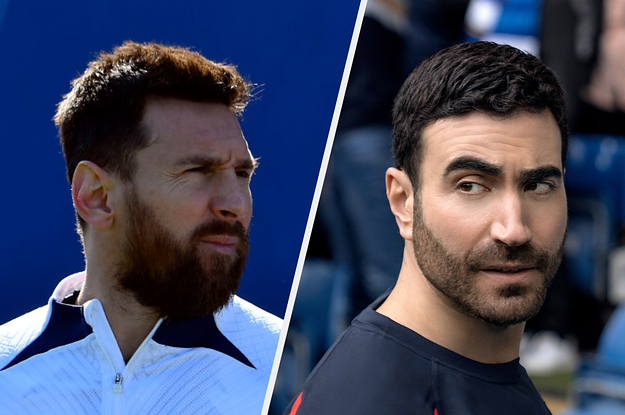 No, Roy Kent is not a real player.
---
View entire post ›
The land under this stadium once belonged to them. They want it back.
LOS ANGELES. Standing less than a mile from Dodger Stadium on a recent Saturday afternoon, Vincent Montalvo could hear the roar of the stadium crowd.
It was Jackie Robinson Day, and more than 50,000 fans settled into their seats, waiting for the game against the Chicago Cubs. But Montalvo had no intention of attending.
It's been over 30 years since he stepped foot in Dodger Stadium. His father took him to the baseball stadium when he was a child in the 1980s during "Fernandomania", a craze for star Mexican pitcher Fernando Valenzuela.
But the seemingly harmless act of attending this game has deepened the wound that festered in the Montalvo family and the city's Hispanic community. Paying off this pain was a challenge for the Dodgers as the team struggled to strike a balance between acknowledging this and expanding the team's broad Hispanic fanbase.
Long before the Dodgers won their first World Series at Dodger Stadium in 1963 and Sandy Koufax played the team's first flawless game in 1965, the land on which the football stadium was built was home to hundreds of families who lived in communities called Palo Verde, La Loma and Bishop. .
These neighborhoods and their residents were relocated in the 1950s by the City of Los Angeles, citing affordable housing plans. But the land was eventually given to the Dodgers to build a baseball stadium after the team moved to the city from Brooklyn in the late 50s. The area is now commonly referred to as Chavez Gorge, a term that has become synonymous with Dodger Stadium.
Montalvo's grandparents were born and raised in Palo Verde. Even though Montalvo's father didn't know about it before going to that game in the 80s, Montalvo's grandfather was outraged that they visited the baseball stadium that replaced his neighborhood.
"We never came back," Montalvo said.
The story of this move is detailed in books, news articles and videos. But in recent years, descendants of marginalized communities in California have been successful in obtaining restitution for land taken from them in the form of money or land back. Inspired by this momentum, the descendants of the three communities of Los Angeles see a chance to achieve their own justice. The land on which Dodger Stadium was built should be returned to them.
Bought out or pushed out
Grandpa Montalvo was reluctant to talk about his life in Palo Verde for a long time. But over time, Montalvo gathered little information about the community, including that many residents supported themselves by growing their own food.
"It was like their little oasis," Montalvo said.
But in the early 1950s, the city of Los Angeles began to displace the residents of Palo Verde, La Loma, and Bishop through voluntary purchases and eminent domains with plans to build an apartment complex in the area.
It was never built, and eventually, after the Dodgers moved to Los Angeles, the team acquired ownership of the land. The condition was to build a stadium with a capacity of at least 50,000 people.
The process of resettling 300 families from the area was long and painful for many residents. While many sold their land to the city, others held on.
The last of the families was forcibly evicted by sheriff's deputies in May 1959. One woman, Aurora Vargas, known as Lola, was notorious for being carried out of her home by police officers. Article in Los Angeles Times On May 9, 1959, the scene is described as a "long shootout". Vargas kicked and screamed, and the children "howled hysterically," the newspaper reported.
A few years later, 48-year-old Melissa Arechiga learned about the eviction from her mother and that Vargas was her aunt Lola. Arechiga found it hard to believe.
"When she told me it was more like something out of a movie," Arechiga said.
Start of movement
Montalvo and Arechiga met in 2018 and founded Buried Under the Blue, a non-profit organization that seeks to raise awareness of the displacement history of Palo Verdean, La Loma, and Bishop residents.
As the so-called land recovery movements gained momentum, Montalvo and Arechiga worked to determine what reparations meant to them and how to get them.
"We know we're going uphill," Montalvo said. "But we also know this: Now in politics, both up and down, it's time for reparations."
These reparations in California were reinforced by the history of Bruce Beach, a property that was bought by a black couple, Charles and Willa Bruce, in 1912 in what would become the city of Manhattan Beach, California. The land was taken from the Bruces in 1924 when city officials denounced it as eminent domain, saying it was needed for a public park.
Last year, the Los Angeles County Board of Supervisors voted to transfer ownership of the land to the great-grandchildren and great-great-grandchildren of Charles and Willa Bruce. They sold the land to the county for $20 million.
Those buried under Blue and the descendants of those who were displaced have political support, including from Younice Hernandez, a member of the Los Angeles City Council, who said she supports them.
"A lot of times we find ourselves in these situations because companies, corporations, people with big money think that other communities are worthless," Hernandez said. "We are still facing these moments even today, and so we must demand that these corporations, these companies give back to the communities what they have taken."
But Hernandez said she would like to see a concrete plan from the organizers of what the reparations would look like before moving forward.
Buried Under the Blue leaders also met with descendants of indigenous tribes that once lived in the Los Angeles basin. They say that in a real land recovery effort, the land must be returned to the indigenous groups who were the original inhabitants.
"There can be no real return of the land without the participation of indigenous peoples," Arechiga said.
Even if the land is returned to the descendants of the indigenous tribes, displaced homeowners and tenants still deserve financial compensation for their investment in the community, Montalvo said.
Buried Under the Blue has yet to determine what it will do with the land if it is ever returned, and it's unclear if that ever will happen or how long it will take.
At Dodger Stadium
Chavez Gorge is home to one of baseball's most iconic stadiums, tucked away between the San Gabriel Mountains and downtown Los Angeles. Dodger Stadium hosts dozens of games a year, as well as concerts and other events. One of the richest teams in Major League Baseball plays here.
Effectively ousting the Dodgers may seem unimaginable to some.
"It's going to take a long time," Hernandez said. "They are not going to oppose a small company. It is a brand and a company that is known across the country and around the world, and so I just think that people need to get organized and get as many people, power and support as possible to meet their demands."
These days, when strolling through Dodger Stadium, fans almost immediately encounter Spanish in several forms.
There are fans who speak Spanish, others who speak Spanish. Julio Urias, Dodgers pitcher from Mexico, enters the pitch to "Soy Sinaloense" – I'm Sinaloan – Gerardo Ortiz. At Dodger Stadium, fans wear Los Dodgers jerseys and T-shirts, and the restrooms and other areas of the stadium are signposted in English and Spanish.
The Dodgers built their Hispanic fan base, one of the largest in Major League Baseball, thanks in part to their long history of fielding Hispanic players, including Valenzuela and Adrian Gonzalez.
However, building this Hispanic support took time after the displacement of so many Mexican American families in the late 1950s. Adrian Burgos, a professor at the University of Illinois who teaches race, sports, and society, said the expulsion of locals "created a very bad relationship between the Mexican American community and the Dodgers."
"It really doesn't change much before Fernando," Burgos said, referring to Valenzuela. "He started letting Mexicans cheer for the Dodgers."
Margaret Salazar-Porcio, a curator at the National Museum of American History who has worked on initiatives such as Latinos and Baseball: In the Barrios and the Major Leagues, said Valenzuela's arrival with the Dodgers was a sort of "symbolic reconciliation with many Latinos." in Los Angeles at this time.
"He is somewhat like your uncle or brother," said Salazar-Porzio. "Fernando Valenzuela gave the Mexican Angelenos a reason to celebrate and come to the games."
The Dodgers also hosted the first full-time Spanish-language broadcast in MLB, under announcer René Cárdenas, who was joined by Jaime Harrin.
"He very quickly became one of the most recognizable voices in Los Angeles Hispanic families," Salazar-Porcio said of Harrin. "He brought the Dodgers to our homes."
Amendment
Since the 1980s, the Dodgers have continued to grow their Hispanic fan base with the help of players like Urias, who was at the top of his game. 2020 Team World Series final win.
But the team, which did not comment on this article, was still puzzling over how to make amends with the displaced residents and their descendants.
In 2000, team officials, including former president Bob Graziano, joined the former residents and their families in a ceremony at the church. It is reported by The Los Angeles Times. that one former resident even hugged Gratiano at the ceremony and they took communion together.
The story of the displacement of residents in Palo Verde, La Loma and Bishop was news to some Dodgers fans, especially the younger ones. It's hard for some to believe that a team that built such a large Hispanic fan base is playing in a land that was once owned by so many Hispanic families.
Some fans, like 23-year-old Manny Truchio, say they "know the basics of it." Others, like Louis Montes, 29, say they don't know anything about history.
"It's easier to forgive if it's not your family members who were forcibly taken out," Burgos said. "The reality is that most of the Dodger fans we see in the stadium today are much younger and their grandparents may have heard about it and knew about it."
Salazar-Porzio, for example, said she didn't know the history of Palo Verde, La Loma, and Bishop until she went to college. The story prompted her to learn more about the layers of resettlement, starting with the city's plan for affordable housing.
"Some people understand this distinction," Salazar-Porcio said. The Dodgers did play their part, but it wasn't like the Dodgers kicked out the people of Chavez Gorge."
She said learning about the story also made Salazar-Porzio think about how she felt about the team, having grown up playing Dodgers games.
"It's very difficult," she said. "All this happened, but all this also happened. I'm really proud of the memories I have with my father, Fernando Valenzuela. This personal connection is the layer of my story with which I choose myself."
Most of the former residents of Palo Verde, La Loma and Bishop are now in their 90s. As they get older, Arechiga and Montalvo say their grandparents still often don't want to talk about that period of their lives.
Correcting their "painful history" serves as a motivation for making amends, Montalvo said.
Taking back the land and effectively driving out the Dodgers was next to impossible. But Arechiga said her family is hopeful.
"They also wonder: is it possible? Can it be obtained?" Arechiga said. "We believe it is."
UFC 288 broadcast accidentally insults Russell Westbrook in bizarre graphics
Russell Westbrook unexpectedly got lost on Saturday night during UFC 288 and wasn't even in the Prudential Center building in Newark, NJ.
During Saturday's UFC event headlined by Aljamain Sterling and Henry Cejudo, Daniel Cormier revealed his keys to defeating Gilbert Burns in his second welterweight bout against Belal Muhammad.
Cormier's list, which appeared as a drawing called "DC's Keys to Victory" for viewers watching TV at home, included three instructions for Burns; Close the Distance, Safe Takedowns, and Don't Be Russell Westbrook.
Russell Westbrook caught a tramp pic.twitter.com/fZzsaRrleg

— NBACentral (@TheNBACentral) May 7, 2023
Cormier attempted to draw a comparison between Burns' attempts to become a UFC champion and Westbrook's NBA career, during which the ring eluded him. Westbrook reached the NBA Finals with the Thunder in 2011–2012, but Oklahoma City lost to the Heat in five games. He has not returned to the final since.
Burns, on the other hand, entered Saturday's fight against Muhammad, needing a win to earn the title shot that Dana White had previously guaranteed the winner at UFC 288.
Unfortunately, it does not appear that Burns followed the strategy recommended by Cormier with sufficient accuracy. A title shot was on the line, and the 36-year-old Brazilian was defeated by a decision after five rounds.
After losing at UFC 288, Burns posted a career high of 22-6-0.