Los Angeles activists denounce Biden's policies after 39 migrant deaths
The day was cold and utterly still, only occasionally interrupted by the horns of passing cars in solidarity. The five-star blue and white flag of Honduras fluttered in the wind, one of many symbols commemorating the deaths this week of 39 immigrants trapped in a fire at a detention center in Ciudad Juarez, Mexico.
"It was a state," read one poster in Spanish.
"No man is illegal," read another text raised by a Mexican immigrant.
A small but passionate group of demonstrators took a stand Friday afternoon in front of the Mexican consulate in Los Angeles to protest what they condemned as the inhumane immigration policies of the governments of President Andrés Manuel López Obrador and President Biden. Immigrants from Guatemala, Honduras, El Salvador and Mexico, who gathered on Park View Street, expressed their emotions about the tragedy.
Indignation. sadness rage fears Pain.
"It's a shame," Francisco Moreno, executive director of the Los Angeles-based Council of Mexican Federations, lamented the fire that killed 18 Guatemalans, seven Salvadorans, seven Venezuelans, six Hondurans and one Colombian. More than two dozen other immigrants were injured in the fire, the cause of which is under investigation. On Thursday, a Mexican court issued arrest warrants for six people in connection with the fire, with no impact on the activists or families of the victims.
Moreno was born in Michoacán, in west-central Mexico, and is a veteran of the protests against former President Trump's anti-immigrant policies. Now he condemns the López Obrador administration for what he sees as the implementation of the Biden administration's directives, in the same way that former Mexican President Enrique Peña Nieto, according to Moreno, conceded to former President Obama.
"The guilty must fall, and not just the jailers, the politicians must fall, the people in charge of immigration policy in Mexico, because it is unfair," he said.
Calling for justice, demonstrators gathered around a bronze statue of Salvadoran Archbishop Oscar Arnulfo Romero, whose assassination during mass in March 1980 sparked an unprecedented wave of migration from the Central American country to the United States.
Among the protesters was Salvador Sanabria, a Salvadoran activist and director of El Rescate, who arrived in Los Angeles seeking asylum just days after the archbishop's assassination.
"It makes me angry and horrified," Sanabria said. "I wonder what mentality the people in charge did it with when it could have been avoided?"
Activists and scholars say the tragedy in Ciudad Juarez is linked to the violence that has swept across the border in recent years as drug cartels and organized crime have turned into vast human smuggling networks, leading to shootouts between rival gangs, kidnappings and torture. people traveling north. During this time, successive US administrations increased pressure on Mexico to crack down on migrants and prevent them from entering the United States.
"Mexico has become the new wall," said Sanabria, who said last week's deaths would be a deterrent to others contemplating the hard way.
"That means they don't make it to the northern border of Mexico, because if they cross the border and get arrested in the United States and deported to Mexico, what will happen to them?" Sanabria said, referring to the fire in the detention center.
Since the summer of 2014, due to pressure from President Obama, Peña Nieto's government implemented the Southern Border Program, a move that increased militarization and surveillance along the border, resulting in 93,613 arrests in the first 12 months.
This policy subsequently encouraged smugglers known as "coyotes" to take more dangerous routes to the United States.
"Most of the migrants have to cross Mexico because that's the route we have to get here," said José Bautista, a Honduran, although he said it meant risking his life.
Another demonstrator, Juanita Calel, who fled war-torn Guatemala for Los Angeles in 1996, said people looking for better opportunities will keep trying to get on the road, no matter the smuggler debts they accumulate or the dangers they face. face.
"What happened really saddens me," the Huehuetenango native said, adding that "I am more saddened by their relatives who stayed in our country of origin and the debt they left behind."
When the protest ended, a few participants were left to roam, play and – in some cases – sleep among tents used by homeless people who live in MacArthur Park.
Pope Francis leaves hospital, shares emotional moment with recently orphaned parents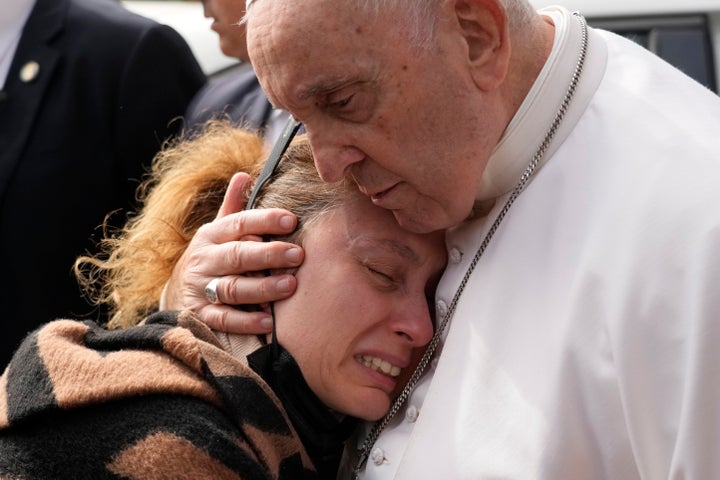 ROME (AP) — Pope Francis was released on Saturday from a Rome hospital where he was treated for bronchitis and joked to reporters before leaving: "I'm still alive."
Francis, 86, was admitted to the Gemelli Polyclinic on Wednesday after reportedly having trouble breathing following his weekly public audience. According to the Vatican, the pontiff was treated with antibiotics intravenously.
Before leaving, Francis had an emotional moment with a couple from Rome whose 5-year-old daughter died Friday night in the hospital.
Serena Subania, Angelica's mother, sobbed, pressing her head against the chest of the priest, who put his hand on the woman's head.
Francis seemed to want to linger with well-wishers. When the boy showed him his cast on his arm, dad made a gesture as if to ask: "Do you have a pen?"
The papal assistant gave Francis one, and the pope signed the cast.
The pontiff responded in a voice that was close to a whisper as reporters bombarded him with questions, indicating that he did indeed feel chest pain, a symptom that convinced his medical staff to take him to the hospital on Wednesday.
Francis sat in the front seat of the white Fiat 500 that had driven him away from the Gemelli Clinic. But instead of heading straight home, his motorcade sped right past the Vatican, according to an Associated Press photographer located outside the walled city-state.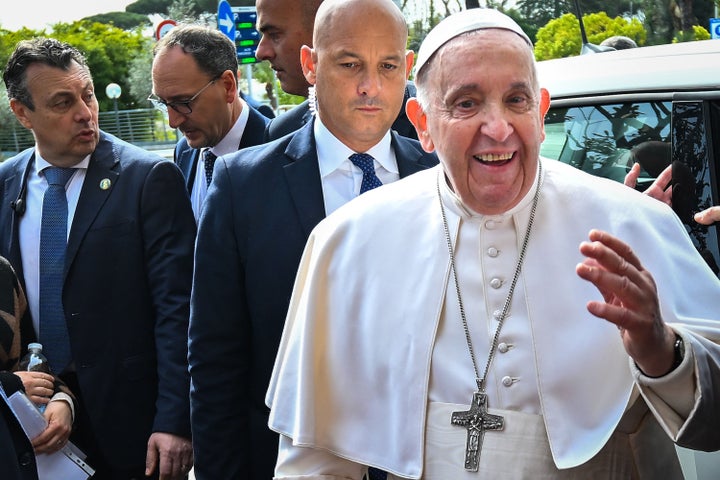 The pope was apparently on his way to the Roman basilica, which is his favorite.
After being discharged from the same hospital in July 2021 after undergoing intestinal surgery, Francis stopped to offer thanksgiving prayers at the Basilica of Saint Mary the Great in Rome, home to an icon depicting the Virgin Mary.
On Friday, Vatican officials said Francis would be in St. Peter's Square for Mass on Palm Sunday to mark the start of Holy Week, which culminates in Easter, on April 9.
Gregorio Borgia contributed reporting.
Japanese composer Ryuichi Sakamoto, composer of the film score for The Last Emperor, has died at the age of 71.
Elaine Lis
TOKYO (Reuters) – Ryuichi Sakamoto, the Oscar-winning Japanese composer best known for scoring The Last Emperor, Merry Christmas, Mr. Lawrence and other films, has died at the age of 71, the Yomiuri Shimbun newspaper reported on Sunday.
Sakamoto was also known for his work with the pioneering electronic music group Yellow Magic Orchestra (YMO), of which he co-founded.
Acquainted with the piano as a child, Sakamoto lived for music. As a high school student, he rode in Tokyo commuter cars so crowded that no one could move, amusing himself by counting all sorts of sounds the train made along the way.
Sakamoto, who named the classical musician Claude Debussy as his hero, studied ethnomusicology at the Tokyo National University of Fine Arts and Music, with a particular interest in the traditional music of Japan's Okinawa Prefecture, as well as Indian and African musical traditions.
"Asian music influenced Debussy a lot, and Debussy influenced me a lot. So music travels the world and comes full circle," he told WNYC Public Radio in 2010.
Inspired by electronic music, he and fellow studio members Haruomi Hosono and Yukihiro Takahashi formed YMO in 1978. The band's pioneering use of a vast array of electronic instruments has been a national and international success.
Sakamoto's first soundtrack was for the 1983 film Merry Christmas, Mr. Lawrence, in which he also played a POW camp commandant alongside David Bowie. The score went on to win BAFTAs.
His most famous work was the 1987 film The Last Emperor, in which he also starred. The music received an Oscar, a Grammy and a Golden Globe.
Sakamoto, who was an anti-nuclear activist and environmentalist, took a break from work for about a year in 2014 to receive treatment for throat cancer. Although he recovered from it after many years of treatment, he announced on his website in January 2021 that he had been diagnosed with rectal cancer.
In December 2022, Sakamoto performed a farewell concert for his fans which was streamed online.
"My strength has really dropped, so a normal concert of about an hour to ninety minutes will be very difficult," he said in an online post a few days before.
"As a result, I recorded her song after song and edited it together so that it could be presented as a normal concert, which I believe can be enjoyable in a normal way. Please enjoy."
(Reporting by Elaine Lees; editing by Christopher Cushing, Edwina Gibbs, and Andrew Havens)
News Rrap: Sessions Insists He Didn't Lie About Russia's Senate Contacts
HARI SRINIVASAN:
The Post also reported today on another incident. He quoted the father of a soldier killed in Afghanistan as saying the president offered $25,000 from his personal account but never did so.
We will learn more about all this after the news report.
The death toll from the wildfires in Northern California has risen to 42 today. Sonoma County officials found the remains of the latest victim after searching hundreds of burned-out homes. Meanwhile, the fire brigades made new gains overnight thanks to cooler weather and lighter winds.
The two-time Olympian says she was sexually abused by a former doctor for the US women's gymnastics team for years. McKayla Maroney is the most famous athlete involved in the scandal. In today's statement, she said that Dr. Larry Nassar started hitting on her when she was only 13 years old. He is awaiting sentencing on charges of possession of child pornography, but denies any sexual harassment.
More questions about drug prices tonight. A new study found that the cost of injectable cancer drugs approved since 1996 has risen by an average of 25 percent over eight years. This is well above the rate of inflation. The study was conducted at Emory University and published in the Journal of Clinical Oncology.
And on Wall Street, health insurers and IBM caused stocks to surge today. The Dow Jones Industrial Average added 160 points, more than half a percentage point, to close above 23,000 for the first time. The Nasdaq rose only a fraction and the S&P 500 rose two points.