Matthew Perry Says He Will Remove Keanu Reeves Line From Future Editions of Memoirs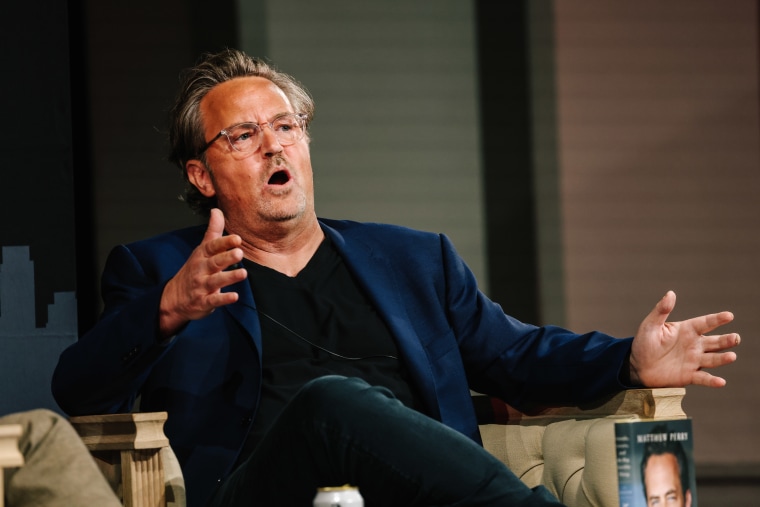 Matthew Perry has vowed to remove his controversial remarks about Keanu Reeves from future editions of his memoir Friends, Lovers and the Big Bad Thing. The Friends actor has apologized after receiving backlash for writing about Reeves in his book, questioning why the actor "still walks among us" when "talented" actors and "original thinkers" such as River Phoenix and Chris Farley.
Now Perry is taking action by removing references to Reeves. At the Los Angeles Times Festival of Books on Saturday, Perry revealed that all future editions of Friends, Lovers and the Big Bad Thing would not use Reeves' name.
"I said something stupid. It was a mean act," Perry said at the festival. "I mentioned his name because I live on the same street. I publicly apologized to him. Any future versions of the book will not have his name in it."
Perry also said that although he has not personally apologized to Reeves, he plans to do so. "If I run into this guy, I'll apologize. It was just stupid," Perry said.
While the "Friends, Lovers and the Big Bad Thing" segments that mention Reeves were written as an attempt to pay homage to the likes of Phoenix and Farley, the execution was met with heavy criticism. "The list of geniuses who were ahead of their time is too long to list in detail here – suffice it to say that my Night in the Life of Jimmy Reardon co-star River Phoenix should be at the top of any such list." Perry writes.
Perry later goes on to write, "River was a handsome man, inside and out—too handsome for this world, as it turned out. It always seems like the really talented guys lose out. Why are original thinkers like River Phoenix and Heath Ledger dying while Keanu Reeves still walks among us? River was a better actor than me; I was funnier. But I certainly pulled off our scenes – no small feat when I look back decades later."
Perry was quick to apologize for the switch back in October: "I'm actually a huge Keanu fan. I just chose a random name, my mistake. I am sorry. Instead, I had to use my own name."
Sophie Nelisse on The Yellow Jackets Season 2, Young Shauna and Eating Jackie's Ear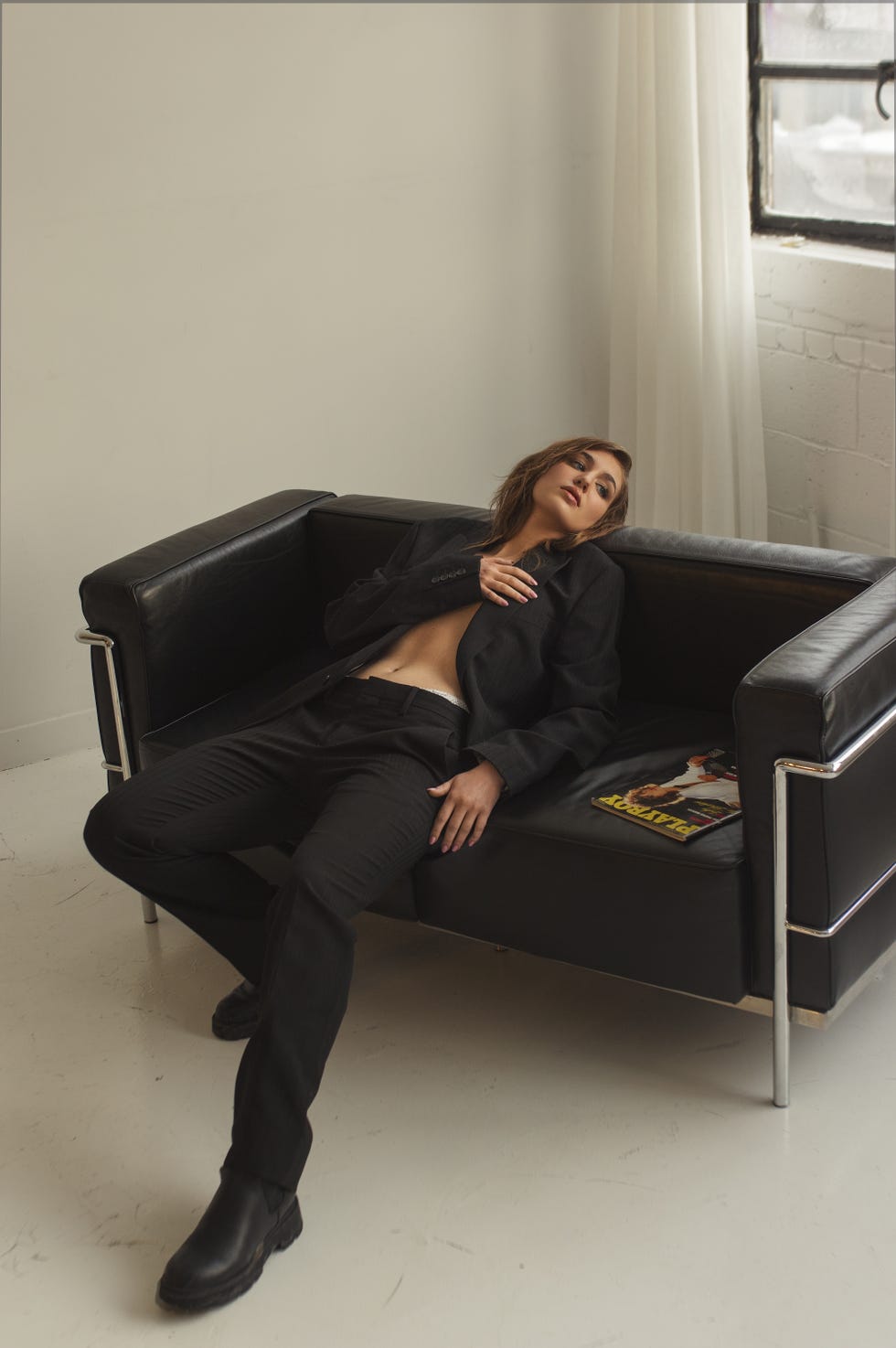 Sophie Nelisse insists that holding Jackie's ear was an accident. 23-year-old Canadian actress who played Shauna Shipman in her youth. yellow jacketswas the first, but not the last! – confirming that Yesthey are going to eat people in this show. The season two premiere ends with Shauna biting her dead best friend's ear after all.
"We filmed the scene. I put it back in my pocket," Neliss confesses to me via Zoom. "Then, a few months later, I was rummaging through my pocket and thought: What is this strange soft thing? Oh my god it's an earIt's obviously not a real ear – the props team made the appetizer out of flexible silicone. Neliss, of course, kept it. "I hid it in my room. If someone walked into my room and I had a whole little ear on the tabletop, it would be something like a red flag. So, it is hidden in a small souvenir box," adds Nelisse.
Eating ears is far from the wildest thing yellow jackets the film crew gets up in the second season – the rest of poor Jackie goes the way of the ear in the very next episode – and Neliss hints that their diets won't be back to normal anytime soon. "Over time in the series, you will see that other foods that we eat are actually made from gummy bears," she says. "They're actually so delicious, but they look so real and sticky and disgusting that our brains can't really separate and detach from them. It is disgusting to eat, although in fact it is quite tasty. It's literally a giant chewing gum. bear."
If only food was the sole concern of an abandoned football team. Now, in the middle of the season, we're watching the girls struggle to make sense of the strange environment they're stuck in – the icy isolation of a forest winter that strains friendships and encourages strange beliefs. Shauna also goes through the misfortune of being pregnant in the desert with her dead best friend's ex-boyfriend's child, which Neliss was particularly excited to explore in the new season.
"The stakes are much higher," she says. "I was very happy that we would tap into more desperate, more animalistic behavior. Part of her has grown to love this baby and she wants it, but at the same time it's a constant reminder of all the things she's done that she regrets. : Slept with Jeff, which also led to Jackie's death. At the end of the second episode, by eating Jackie, she ended the story. But pregnancy is a constant reminder. It's a reason to try and survive and try to survive. get out of the wilderness, because she has not only her[self] to think about. It brings out this very selfless side in her, but she fears for her life because she is likely to die."
In the fifth episode, "Two Truths and a Lie", Shauna feels trapped not only by her physical condition, but by the growing number of those who are starting to look like a cult – with a resisting (and possibly clairvoyant) Lottie Matthews at the helm. . She is utterly terrified of their little meditation sessions in the woods and cannot shake their constant interest in her unborn child. "She understands where they come from, as you need to hold on to something to survive," Neliss explains. "Her hope is only this child, and she does not want anything to be associated with him. The journey Lottie is taking scares her because she sees them losing touch with reality. I don't think she wants to take the risk." it by believing it."
"She's already so mad at herself for everything she's done that I don't even think she can be held accountable anymore," Neliss continues. "She definitely projects a lot of her anger and takes it out on other people because it's too hard for her. As the season progresses, she feels very alienated because she is so angry with herself. group because they didn't believe in the cause."
Fighting off a witch cult alone is a dangerous business, but fortunately we know that Shauna is one of the survivors, and Melanie Lynskey plays her adult counterpart in the present. Neliss explains that both actors tried not to copy each other's performances too much, and also created a logical path through a period of her life that we don't see, from one Shauna to the next. While other characters have matured or evolved into new, different versions of themselves as adults, Shauna has taken the opposite path.
"She is back to being the Shauna she was. before wilderness," Neliss says. "In my storyline, we see Shauna grow into who she is, find her inner strength without all these social norms and hierarchies. Without Jackie, she is finally, in some strange, confusing way, truly free within herself. But because she has done such terrible things, she is afraid of this man. She turned back into the Showna she used to be, turning into the person that other people want her to be. She reconnected with Jeff and settled into a family she didn't really want. Ironically, Shauna years later is a more dormant, locked-in version of herself. We see her act because she wants to find the voice she found in the desert."
And what is that voice? All the survivors have been torn out of their happy lives in the suburbs and seem to be coming together for some unknown purpose, driven by some unknown force. Natalie and Misty are looking for Lottie's wellness center. Thaissa's possible split personality led her straight to Van. Shauna and Jeff are still trying to cover up the murder, but it's likely only a matter of time before Shauna feels the call. yellow jackets never waves his hand to one side or the other, inviting his audience to interpret events for themselves—as the characters do—either as the product of supernatural power or as something more mundane.
"He appeals to a very wide audience," Neliss says. "I watch him come out every week with my family. We watched the third episode last night and that's what my brother and his wife were saying – they play such a fine line. As a society, we have so many different beliefs. … I have many friends who are into crystals and astrology and all that. Everyone who watches the show can have their own interpretation, depending on how rational they are in their lives and what they want to believe."
Nowhere is this more evident than in one of the final tragic scenes of the first season, when Shauna and Jackie seem to share the latter's dying vision of being invited back to the cabin from the cold, only to die terrified by the darkness. , ghostly presence. The scene transitions from Jackie's dream to Shauna waking up, as if she knows exactly what happened. It goes down in a way that seems to suggest many different conclusions.
"I see this as a premature dream," Nelisse says when I ask her what her interpretation was. "When you kind of know something is going to happen, you daydream about it or your instincts just kick in. It could be Shauna's inner feeling of what's to come, that Jackie is dying. This is probably the last thing she sees before she dies. and also what Shauna would like for everyone to say: "We love you Jackie and everything will be fine." Sorry you are watching yellow jackets— and nothing will be good. These girls are in for a ride. We haven't left the forest yet. at all."
Emma Stefansky is a culture and entertainment writer based in New York City. Her work can be found on Vanity Fair, GQ and The Daily Beast, among others.
Brandon Sklenar will play Atlas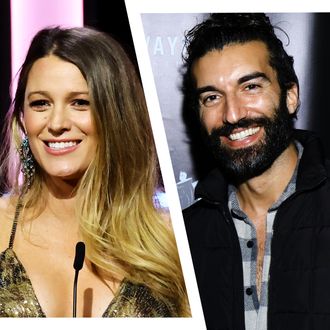 Photo illustration: Vulture. Photo: Getty Images
V It ends with us the coloring book may have met an early end, but It ends with us the film is just beginning. Extreme reports What yellowstone prequel 1923 star Brandon Sklenar will play Atlas in the adaptation of Colleen Hoover's hit book from BookTok. That means a central love triangle is now in place, as Hoover confirmed earlier in the year that Blake Lively and Justin Baldoni would play lead couple Lily and Ryle, whose romance turns into domestic violence. "I think Justin Baldoni and Blake Lively have what it takes to bring these characters to life and I can't wait for you guys to see it come to fruition," Hoover said on Instagram. video announcing the news. "I will do my best to steal as many shots from you as possible without getting kicked off the set. I'm so excited, all of you."
By the deadline, I don't agree with this screenwriter Christy Hall is adapting the script for the screen. Meanwhile, Baldoni has a triple duty: in addition to casting and directing, he will also be an executive producer alongside Lively and Hoover. V It ends with us The film is currently in development with Wayfarer Studios and Sony Pictures. According to Hoover, the original book is "kind of inspired" by her mom, who "got us out of a scary situation" when she was little. Accordingly, Hoover returned to her childhood home to film her casting announcement. "The little girl who used to sleep in this bedroom thanks you for all the support," she said.
Ana de Armas prepared for "a couple of months" before filming the stunts for "Ghost" with Chris Evans.