The New York City subway passenger accused of chokehold death of Jordan Neely is a Marine Corps veteran.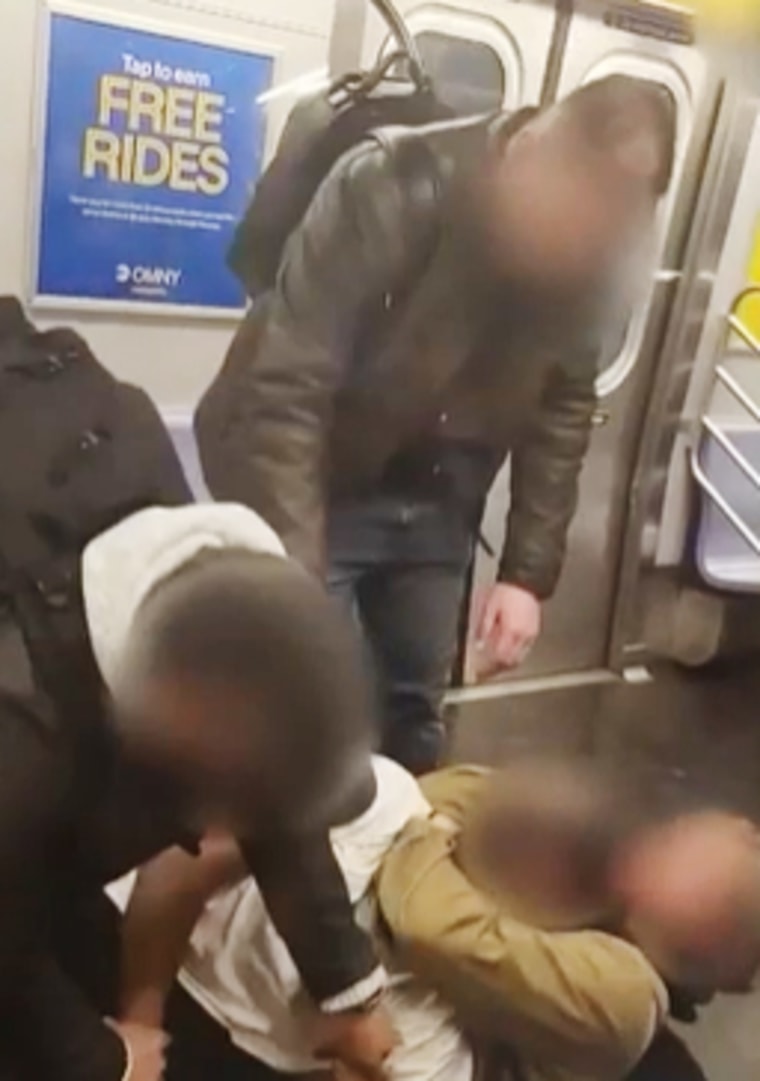 The New York subway passenger accused of death of a homeless man by chokehold is a U.S. Marine Corps veteran discharged from service in 2021.
Daniel J. Penny, 24, has been identified by authorities as the man who allegedly choked Jordan Neely after what police said was an altercation Monday on a northbound F train, according to two law enforcement officials who knew with the progress of the investigation.
Neely, 30, was unconscious when police arrived at the Broadway and East Houston Street subway stations and he was pronounced dead in a hospital, NYPD said.
He died from "neck compression (chokehold)" and it was a homicide, the city medical examiner said. Penny was taken into custody on Monday, questioned by police and released. No charges have been brought against him.
Legislators and others have asked why he has not been held by law enforcement for longer.
On Friday, two people familiar with the matter said Manhattan District Attorney Alvin Bragg is expected to present the case to a grand jury to consider possible charges. It is not clear when charges could be filed or when the case will be closed without prosecution.
Who is Daniel Penny?
The incident, partially filmed on mobile phone video, has sparked a national debate, with people condemning self-defense and some politicians demanding that authorities do more to address homelessness, mental health and subway violence. Lawyers for his family said that Neely, a subway busker who performed dance routines dressed as Michael Jackson, was suffering from a mental illness.
Penny graduated from West Islip High School in Long Island, New York, in 2016, a county spokesperson said Friday, without providing further details.
He served in the Marines from June 2017 to June 2021 with the 1st Battalion, 2nd Marines and 2nd Marine Division, a spokesman said. He rose to the rank of sergeant and his last assignment was at Camp Lejeune in North Carolina.
Penny was awarded two Marine Service Ribbons and five medals, including the Marine Good Conduct Medal, the Humanitarian Service Medal, and the Global War on Terrorism Medal.
A Marine Corps spokesman said in a statement that the service is aware of what happened on the train and will "cooperate with the agencies investigating this incident if requested."
But he added that the Marines could not confirm the involvement of a former soldier in the incident, saying that he "simply confirms that the person with the name you provided us served in the Marine Corps."
After the army, Penny went to college but dropped out because he felt "completely unfulfilled" and traveled around Central America instead, according to his profile on Harri, a hospitality industry recruitment and management platform. He was looking for a job as a bartender in Manhattan, the profile says.
Penny, his family and their attorney did not respond to multiple requests for comment.
More about Jordan Neely's death by strangulation
Multiple 911 calls
A police spokesman said the officers were called to the station after they received a call to 911 about the fight.
"Further investigation revealed that a 30-year-old man was involved in a verbal altercation with a 24-year-old man that escalated into a physical altercation," the spokesperson said in a phone call earlier this week. "During a physical struggle between two men, a 30-year-old man collapsed."
Two sources familiar with the matter say there were at least five 911 calls related to the incident, including initial reports of a homeless man who was seen by some as threatening because of his manner and loudness.
Juan Alberto Vasquez was on the train and partially filmed the fight on his cell phone. The widely circulated video does not show what happened before the chokehold.
Hey said NBC New York that Neely got on the train and "began to make a somewhat aggressive speech, saying that he was hungry, he was thirsty, that he didn't care about anything, that he didn't care if he went to jail, that he didn't care that he was getting a big life sentence term".
Some witnesses stated that Neely allegedly acted very aggressively towards other riders and threatened to harm them, the news station reported. Vasquez said Neely was held in a choke position for about 15 minutes.
The law firm hired by Neely's family said he suffered from a mental illness "which began at age 14, when he survived the brutal murder of his mother."
His mother, Christine Neely, was killed in 2007, stuffed into a suitcase and left on New York's Henry Hudson Boulevard. It is reported by NJ.com.. Her boyfriend, Sean Southerland, was convicted in a trial in which Neely, then 18, was being tested. He told the court that he tried to say goodbye to his mother before school on April 4, 2007, but Southerland refused to let him enter the bedroom. . Later that day, Neely said that Southerland packed up and left. Southerland was sentenced to 30 years in prison.
Jordan Neely's death from NYC subway strangulation could be brought before grand jury on possible charges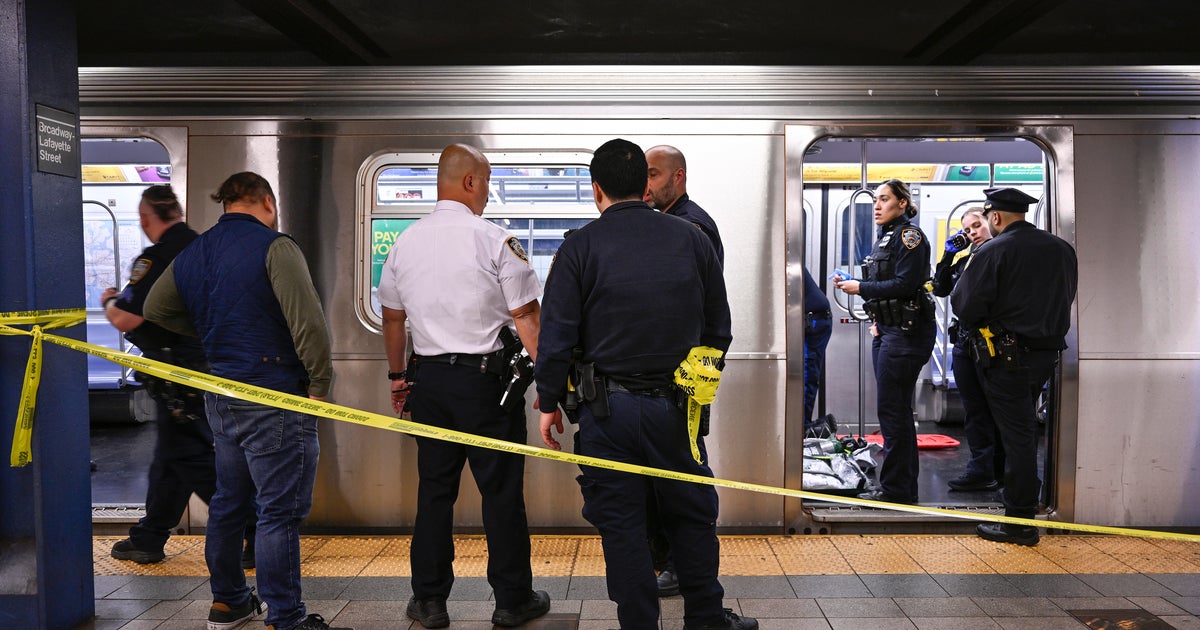 A case involving a New Yorker who was strangled to death on a subway train is likely to face a grand jury next week, law enforcement sources told CBS News Friday.
A grand jury will decide whether criminal charges should be brought against the subway passenger who strangled 30-year-old Jordan Neely on May 1. apparently to contain it after witnesses said Neely began acting erratically.
According to CBS New York, the man who strangles Neely is a 24-year-old Marine Corps veteran who was questioned by the NYPD and then released.
Neely's death was ruled a homicide by the New York City Medical Examiner's Office on Wednesday.
"This is a solemn and serious matter that ended in the tragic death of Jordan Neely. As part of our thorough ongoing investigation, we will review the forensic report, evaluate all available video and photographic material, and identify and interview as many witnesses as possible. and possibly obtain additional medical records," the Manhattan District Attorney's office said in a statement.
CBS New York obtained video of the incident, which shows a 24-year-old man strangling Neely for several minutes.
The other two riders try to hold Nili's arms before all three release him, leaving Nili lying motionless on the floor.
Police sources told CBS New York that Neely behaved erratically on the train, allegedly throwing trash and yelling at the passengers.
CBS New York reported that the 24-year-old stepped in to try and put him down and everything went physical. Police told CBS News it was unclear who the attacker was. Sources say the young man strangled Neely after telling others to call 911.
Thanks for reading CBS NEWS.
Create your free account or log in
for more features.
King Charles surprised the crowd at Buckingham Palace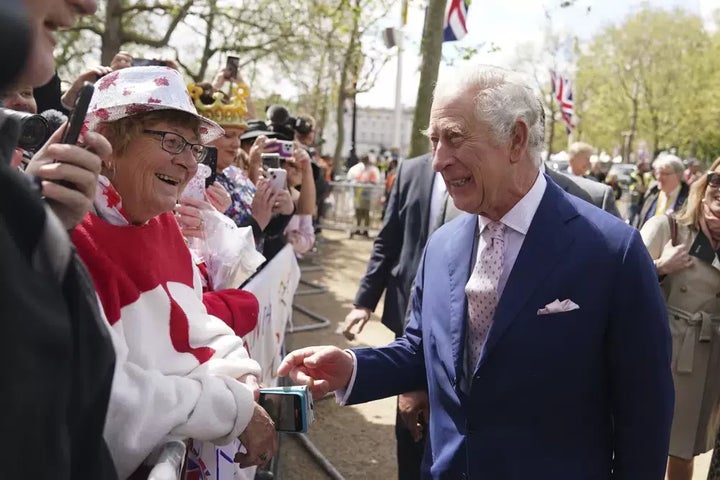 LONDON (AP) — King Charles III surprised cheering fans who began gathering outside Buckingham Palace on Friday, the day before his coronationas the finishing touches were put into preparations for an event that London did not celebrate at 70.
People in the crowd shouted his name as Charles got out of the Bentley with a chauffeur in a blue suit. One man was heard shouting "God Save the King" as the British monarch approached the crowd that had lined up behind the barricade.
Charles thanked the well-wishers for coming by shaking hands as he moved slowly down the line.
Teresa Iredale, who wore a plastic crown, said she was trembling when the king approached her after she called out his name.
"I saw his hand reach out to mine and I thought, 'I can't believe I'm shaking hands with the king,'" she said.
Prince William, heir to the throne, and his wife Kate also greeted the crowd during the walk, talking to fans on the opposite side of the mall, posing for selfies and chatting.
Members of the royal family stopped in after lunch following the last rehearsal of Charles' Saturday morning coronation at Westminster Abbey.
Charles ascended the throne automatically when his mother, Queen Elizabeth II, died last year. V religious ceremony coronation represents his formal coronation.
The celebration has been in preparation for several months, the choreography is thought out to the smallest detail and includes massive security operation.
In addition to big planning, Charles is trying to stay relevant as support for the monarchy decreased, especially among the younger generation, who care less about their traditions. His coronation comes as some question the massive spending of public funds – without any estimate – during a cost-of-living crisis that has left many Britons struggling.
The crowd outside the palace grew over the course of several days. visitors from all over the world gather to witness history as the last monarch is crowned in a tradition dating back over 1,000 years.
Fans of the royal family were dressed in red, white and blue Union Jack flags, waving flags, were dressed in full outfits with a characteristic pattern, and one man had it painted on his face.
Many of those gathered had already set up camp or were planning to spend the night hoping to find a better place for the Saturday procession and perhaps see the newly crowned monarch and Queen Camilla, his wife, waving from the balcony of the palace after returning from .
Those who expected only a passing acquaintance with the king were richly rewarded with the opportunity to meet him in person.
"Absolutely amazing, just surreal," said Gillian Holmes.
"My daughter said her legs were shaking, she was in shock," Holmes said. "I never dreamed that I would meet the king. I can not believe this".
Throughout the day, rail travelers across the United Kingdom were greeted with a recorded message from the King as they boarded trains, wishing them and their families "a wonderful weekend after the coronation".
The message that passengers ended up with was Charles giving the familiar warning they get before boarding or exiting subways and trains: "And remember, please watch for a space."
More about the coronation of King Charles:
Starbucks in the Buffalo area voted to dissolve its union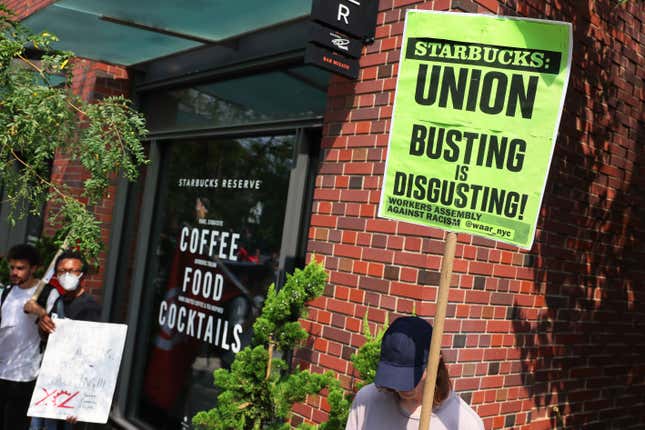 What to say to a colleague who is grieving
Starbucks in downtown Buffalo is one of the first places to join the national labor organization– voted to dissolve his union after filing an application for deregistration to the National Labor Relations Board (NLRB) last week, according to Bloomberg.
The employees' decision comes two years after the company voted 18 to 1 in favor of union representation. It was the sixth Starbucks in Buffalo to officially form a union.
The news comes about a month after former CEO Howard Schultz testified before the Senate Labor Committee, where he reiterated Theses of the chain of coffee houses about the fight against labor unions during the often contentious hearings.
It was not immediately clear why the store had petitioned to revoke its union's certificate, as there was no need to state the reason in the NLRB.
Representative of Workers United told the local NBC affiliate in Buffalo that the majority of store employees involved in the union process were fired or forced to leave, stating: … the revocation of the certificate was due to Starbucks' illegal union busting campaign."
Starbucks spokesman Andrew Trull disputed the union's allegations.
"The accusations are false. Starbucks policy strictly prohibits any retail behavior towards affiliates interested in merging. If remedial action has been taken against partners, it is because they violated established policies and procedures," Trull said in an email to Quartz.
Starbucks laid off three employees in the Buffalo area, participated in organizing a union just days after Schultz's testimony, which the union described as a retaliatory action. Starbucks blamed at least one of the layoffs for being late.
Despite the fact that more than 280 Starbucks locations across the country successfully voted to form a union, not a single store was able to secure the first contract with the company. The NLRB filed 504 unfair labor practices complaints against Starbucks during a two-year unionization process. in a New York Times report.
Latest Workforce News at Starbucks: Timeline
August 23, 2021: Despite initial efforts to unite starting from 2019the first legal notice comes in the form of a tweet addressed to Starbucks then-CEO Kevin Johnson says workers are organizing at three stores in Buffalo. region.
December 9, 2021: After 19-8 voting among employees, Elmthe Starbucks tree in Buffalo is becoming first location form an official union.
January 31, 2022: Unionization is spreading rapidly throughout Starbucks' in-house stores. employees in 54 locations holding trade union elections in month of the first.
February 8, 2023: Senator Bernie Sanders from Vermont invites Schultz to testify before Congress about Starbucks' attempts to thwart union organizing.
February 14, 2023: Schultz bows down an invitation stating that his impending departure from the company prevents him from speaking on the subject.
February 22, 2023: Schultz blames unionization efforts on adverse economic conditions for youth across a wide range CNN interview.
March 8, 2023: Sanders is canceling a vote to subpoena Schultz after an executive agreed to appear for a March 29 hearing over efforts to prevent unionization at his stores.
March 23, 2023: Starbucks holds an annual general meeting where the New York City Comptroller and other investors Appeal to shareholders vote for an independent assessment of the company's labor practices.
March 29, 2023: Schultz certifies in controversial Senate Labor Committee hearinglargely echoing the anti-union anti-union messages of the coffee shop chain.
April 3, 2023: The shift supervisor at one of the first unionized stores, Lexi Rizzo, was fired for being late. The union claims it was a retail layoff.
May 4, 2023: One of the first Starbucks locations in Buffalo to organize a vote to dissolve the union.
Starbucks Unionization by the Numbers
$15: Starting salary for Starbucks employees. According to the company, on average bet $17.50.
$3.7 billion: Schulz's condition.
$8.8 million: Signing bonus and shares for Laxman Narasimhan, the new CEO of Starbucks, in his contract to succeed Schultz earlier this year.
504: The number of individual allegations of unfair labor practices filed by the NLRB General Counsel against Starbucks.
282: Number of unionized Starbucks locations certified by the NLRB as of mid-February 2023. The board also confirmed 56 votes against the creation of a union..
Similar stories
⚖️ Schultz doubled down on Starbucks' anti-union stance in a Senate hearing.
☕ Starbucks' anti-union tactics fail
⚖️ Bernie Sanders will finally get a chance to interrogate Starbucks' Howard Schultz about his fight against unions.