'Theda Lasso' Cast Visits The White House To Promote Mental Health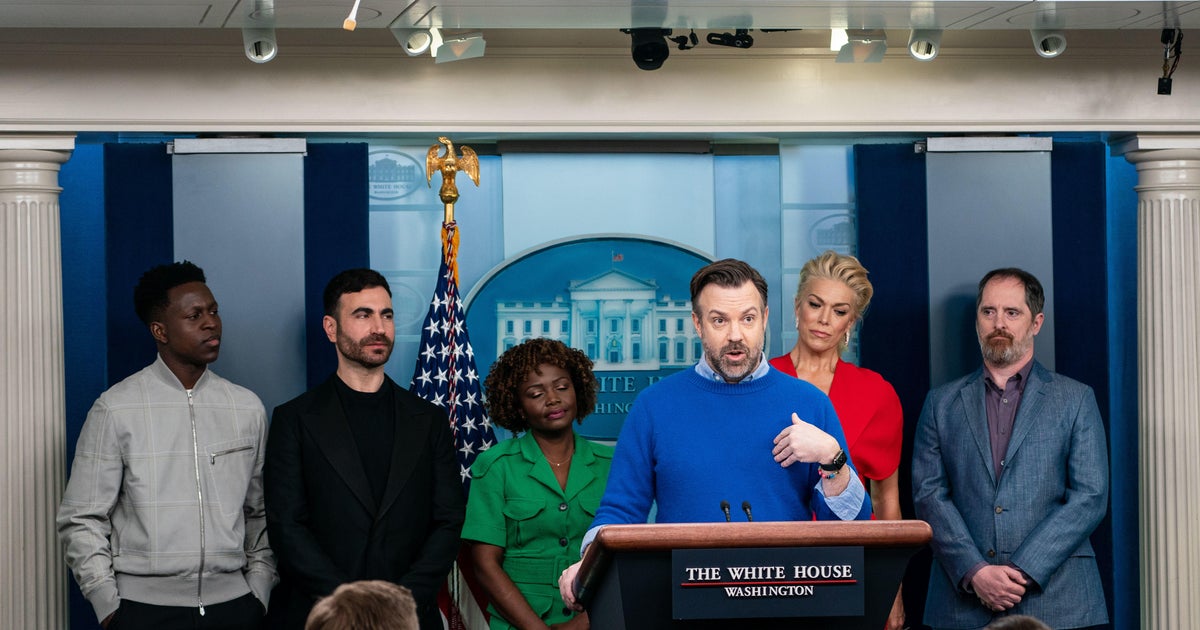 Actor and comedian Jason Sudeikis, who played the football coach of the same name on the show. "Ted Lasso" visited the White House on Monday – accompanied by the cast of the hit show – to encourage people to make it a habit to check on the mental health of their friends, family and colleagues, and to "ask how they are doing and listen sincerely."
Comedian Jason Sudeikis, who plays the protagonist, an American who coaches a football team in London, and other actors met with President Joe Biden and First Lady Jill Biden to talk about how mental health contributes to overall well-being.
Mental health and caring for each other is the theme of the show, Sudeikis told reporters from a pulpit in the White House briefing room as he helped press secretary Karine Jean-Pierre open her daily briefing. The Emmy-winning, enjoyable show on Apple TV+ has just opened its third season.
"While this is easier said than done, we also need to know that we should not be afraid to ask for help ourselves," Sudeikis said. "It takes a lot, especially when it comes with a negative stigma like mental health, and it shouldn't be that way.
"And if you can get help from a professional, fantastic," he continued. "If it has to be a loved one, just as good, in so many ways."
Mental health is part of Biden's bipartisan "unity agenda." He also urged lawmakers to devote more resources to fighting what some are calling the crisis. The administration has also increased funding to support the new 988 suicide and crisis line and send more mental health professionals to schools.
Sudeikis said seeking help shouldn't be a stigma because everyone knows someone who needed someone to lean on or was that person themselves.
"No matter who you are, where you live, no matter who you voted for, we all probably, I guess we all know someone who was or was that someone actually who fought who felt isolated, felt anxious, felt alone," he said.
"It's actually one of the many things, believe it or not, that we all have in common as humans," Sudeikis continued. "It means that this is something we can all and should talk about with each other when we feel this way or when we acknowledge it in someone who feels this way."
He made a special appeal to the residents of the capital.
"I know a lot of people in this city don't always agree, right, and don't always feel heard, seen, heard," Sudeikis said. "But I truly believe that we should all do our best to take care of each other. This is my personal conviction. I think everyone here on stage believes that."
Following his appearance at a White House briefing, Sudeikis answered a question, albeit from one of the press staff, British actor James Lance, who plays The Independent sportswriter Trent Krimm on Ted Lasso.
"How do you feel about Kansas City being named one of the host cities for the 2026 FIFA World Cup?" Lance asked. Both Sudeikis and Ted Lasso from Kansas City. (In fact, Kansas City was chosen to host the World Cup.)
Sudeikis joked, "So I was hoping for a softball," before adding, "You know what? To be honest, I'm very excited. Kansas City will be one of those teams. I mean, I love this city. He went on to say, "What genuinely worries me is that once we get all these people from all over the world to come to Kansas City and see our city, eat our food, meet our people, you will have, u you will know a lot of people who will not want to leave."
The Bidens have seen some of "Ted Lasso" and are familiar with his messages of hope and kindness, the White House said.
Joining Sudeikis for the daily briefing were actors Hannah Waddingham, Brett Goldstein, Brendan Hunt and Tohib Jimo.
Sudeikis and his cast were the latest entertainers to visit the White House and join in on the issues that the Democratic president and first lady are raising awareness about.
Singer Olivia Rodrigo visited the country during the pandemic to help young people like her get vaccinated against COVID-19. BTS, a popular Korean boy band, has been instrumental in engaging Asian people and combating prejudice against Asian Americans.
Actor Matthew McConaughey made an impassioned call for tougher gun laws last year following the Uvalde, Texas elementary school shooting that killed 19 children and two teachers.
Singer and actors Mary J. Blige and Selena Gomez, along with Jill Biden, took part in separate events focusing on cancer awareness and youth mental health, respectively.
How long does weed stay in your system? What smokers, new and old, should know.
Winnie the Pooh movie pulled from Hong Kong theaters
HONG KONG — Public screenings of the Winnie the Pooh slasher were abruptly canceled in Hong Kong on Tuesday, sparking discussions about tightening censorship in the city.
Film distributor VII Pillars Entertainment announced on Facebook that the premiere of Winnie the Pooh: Blood and Honey on Thursday has been canceled with "great regret" in Hong Kong and neighboring Macau.
In an email response to the Associated Press, the distributor said theaters had notified him that they were unable to show the film as scheduled, but did not know why. The cinema chains involved did not immediately respond to a request for comment.
For many residents, the Winnie the Pooh character is a playful mockery of Chinese President Xi Jinping, and Chinese censors have briefly banned bear searches on social media in the country in the past. In 2018, "Christopher Robin", which also starred Winnie the Pooh, was reportedly denied theatrical release in China.
The screening of the film in Hong Kong sparked concern on social media about the curtailment of freedoms in the territory.
The film was originally scheduled to be shown in about 30 theaters in Hong Kong, VII Pillars Entertainment reported last week.
The Film, Newspapers and Articles Authority said it had approved the film, and arrangements by local cinemas to show approved films "are the commercial decisions of the respective cinemas."
The screening, originally scheduled for Tuesday night at one cinema, was canceled for "technical reasons," the organizer said on Instagram.
Kenny Ng, a professor at the Hong Kong Baptist University Film Academy, declined to speculate as to the reason for the cancellation, but suggested that the mechanism for suppressing criticism appears to be commercial solutions.
Hong Kong is a former British colony that returned to Chinese rule in 1997 with a promise to keep its Western-style freedoms. But China introduced a national security law after massive democratic protests in 2019, silencing or jailing many dissidents.
In 2021, the government tightened the rules and empowered censors to ban films deemed to violate the sweeping law.
Ng said there have been more cases of censorship in the city in the past two years, mostly targeting non-commercial films such as independent short films.
"When there is a red line, there is more taboo," he said.
Bong Joon Ho's 'Mickey 17' Gets Trailer And Release Date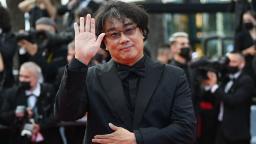 Here's a first look at Parasite director Bong Joon Ho's new film.