Two people died in a possible tornado in Oklahoma due to a storm that hit the state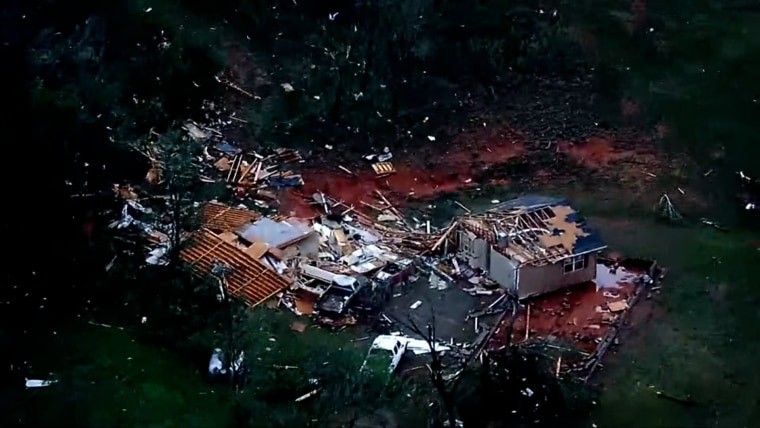 Authorities said two people died in Oklahoma after a possible tornado hit Wednesday night.
McClain County Sheriff's Office confirmed two deaths and said in facebook post that the crews were responding to reports of injuries and people trapped in their shelters.
Residents of Cole, a county town about 25 miles south of Oklahoma City, were ordered to take shelter immediately Wednesday evening. The County Emergency Management Agency reported at 7:39 p.m. that a dangerous tornado was raging over the city.
"Based on the damage and the reports we're receiving, however significant, there could reasonably be more injuries or deaths that we don't know about at this time," McClain County Deputy Sheriff Scott Gibbons told reporters earlier. there was one confirmed death.
Helicopter video from NBC affiliate KFOR in Oklahoma City showed ruined houses in and around Cole, city ​​around 620
Oklahoma Highway Patrolman Eric Foster told reporters that Cole was seriously injured, with trees and power lines downed.
He said the rural nature of the community and the state, and the damage, mean searchers need time to check on damaged property and storm shelters.
"We have to park and walk miles to get to a lot of these places, so it will take us a while to find them," Foster said. "We know that there are victims. We know the property has suffered significant damage."
In Norman, just east of Cole, the University of Oklahoma has ordered everyone on its campus to immediately seek shelter and stay out of windows as dangerous storms approach. The tornado threat later passed.
In Pottawatomie County, the weather service warned of a tornado storm approaching Shawnee, a city of about 30,000 people. It was not immediately clear if there were any injuries.
The extent of the damage was also not immediately clear. Footage transmitted to KFOR shows broken power lines and damaged signs in the city.
The Pottawatomie County Office of Emergency Management said in Facebook posts that roads and streets were blocked by debris or power lines, "too many to list." He urged people to stay at home so that rescuers can do their job.
Oklahoma Baptist University at Shawnee said classes were canceled Thursday and Friday and students were ordered to stay in their residences Wednesday night, citing debris and downed power lines.
"There were no reports of injuries, but the damage to the campus is significant, "the university said in a statement. facebook post.
The weather service on Wednesday predicted the possibility of severe thunderstorms, as well as tornadoes in parts of the Great Plains due to a cold front.
Democrats oppose some points of Kevin McCarthy's bill to raise the national debt ceiling: NPR House Speaker Kevin McCarthy unveiled legislation aimed at boosting the country's borrowing power and preventing default. But the bill includes a long list of spending cuts, policy changes and other items.
SCOTT DETRAW, HOST:
Today in Washington, back and forth with large global financial stakes. Republicans in the House of Representatives have said they won't vote to raise the debt limit without corresponding cuts, and now they've finally put forward their plan. It includes significant spending cuts and policy changes. And House Speaker Kevin McCarthy argues that the time has come to address the country's growing financial problem.
(SOUND FROM ARCHIVE RECORDING)
KEVIN McCARTHY: If Washington wants to spend more, it will have to unite, find savings elsewhere, like any family in America.
DETROW: President Biden and other Democrats are already saying these ideas don't work. Deirdre Walsh of NPR joins us with the latest on this high-stakes battle. hey deirdre
DAIRDRE WALSH, SIGNED Hi Scott.
DETROW: So what's in McCarthy's proposal?
WALSH: There are many provisions, but the key one to avoid a default this summer is that the bill would increase the country's lending power by $1.5 trillion or until next March, whichever comes first. It is worth noting that 2024 will be the middle of the election year. The Republican bill in the House of Representatives would return federal spending levels to two years ago and limit future spending growth to 1% per year. House Republicans also want to return federal COVID money that was not spent and cancel President Biden's student loan write-off program, which is now tied to litigation. Another thing he'll do is repeal key parts of the Inflation Reduction Act. This is a bill signed by President Biden that funds energy and climate change programs. Instead, Republicans in the House of Representatives are introducing provisions that would expedite the issuance of permits for new energy projects. The bill also reinstates some work requirements for adults without dependents who receive federal assistance for things like food stamps.
DETROW: So President Biden also gave a speech around the same time as McCarthy. What did he say?
WALSH: Well, he was speaking from a union hall in Maryland, and he actually countered his message with McCarthy's visit to Wall Street on Monday to discuss the matter. The president argued that the threat of default was hurting the economy and said both sides had contributed to $31 trillion in current debt.
(SOUND FROM ARCHIVE RECORDING)
PRESIDENT JOE BIDEN: A debt that has taken 230 years to accumulate in total – in total – if we don't do what they say. They say they will default if I don't go along with all these stupid ideas they have.
WALSH: The President said he was open to talking about economic growth, but he insisted that a default should not be discussed.
DETROW: The eternal question about things like this, what's next?
WALSH: Right. McCarthy plans to vote on his bill next week. He told me as he left the room after his speech that he was sure his members would support him to pass it. But the law could face some defections within the House Republican Conference. As you know, Scott, the speaker can only afford to lose a handful of votes. McCarthy has been involved in debt ceiling battles in the past, but most Republicans in the House of Representatives have not been involved in the latest major debt ceiling battle, which effectively led to a downgrade of the country's credit rating. Democrats, as we said earlier, have embraced the idea immediately, and they're talking about the impact of spending cuts on a number of these federal programs.
But McCarthy's real purpose in making this proposal is to show that Republicans in the House of Representatives have their own agenda. He wants to get President Biden to the negotiating table. The two have not met to discuss the debt ceiling in detail since Feb. 1. And Treasury Secretary Janet Yellen said the country will run out of money this summer to pay its bills. So we don't really have much time to come up with a proposal that can be approved by both the House of Representatives and the Senate and signed by the President.
DETROW: This is Deirdre Walsh from NPR. Thanks Deirdre.
WALSH: Thank you, Scott.
NPR transcripts are produced on a tight schedule by an NPR contractor. This text may not be in its final form and may be updated or revised in the future. Accuracy and availability may vary. The official recording of NPR programs is an audio recording.
House of Representatives passes resolution to repeal changes to the D.C. police force
The resolution was passed by the House of Representatives by a vote of 229 to 189, with some Democrats voting along with Republicans.
The vote comes just weeks after the Senate signed a GOP-backed measure to block the county's new criminal code. President Joe Biden, despite loud criticism from some Democrats, signed a resolution disapproving of the Republican Party.
But this time, the White House said Biden would veto a resolution on policing. The administration's policy statement said Biden would not support pushing to reverse "sensible" changes, such as banning chokeholds, limiting the use of force and lethal force, improving access to body-camera footage, and requiring officers to be trained in de-escalation and the use of force.
"Congress must respect the right of the District of Columbia to take action that enhances public safety and public confidence," the White House said in a statement. "The President also continues to urge Congress to pass common sense police reform legislation."
Democratic Affairs. Eleanor Holmes Norton, D.C.'s non-voting representative in the House of Representatives, criticized D.C.'s resolutions during a speech Tuesday as "deeply undemocratic, paternalistic legislation," telling House members to "keep your hands off D.C."
Arizona Senate Settles Election Audit Lawsuit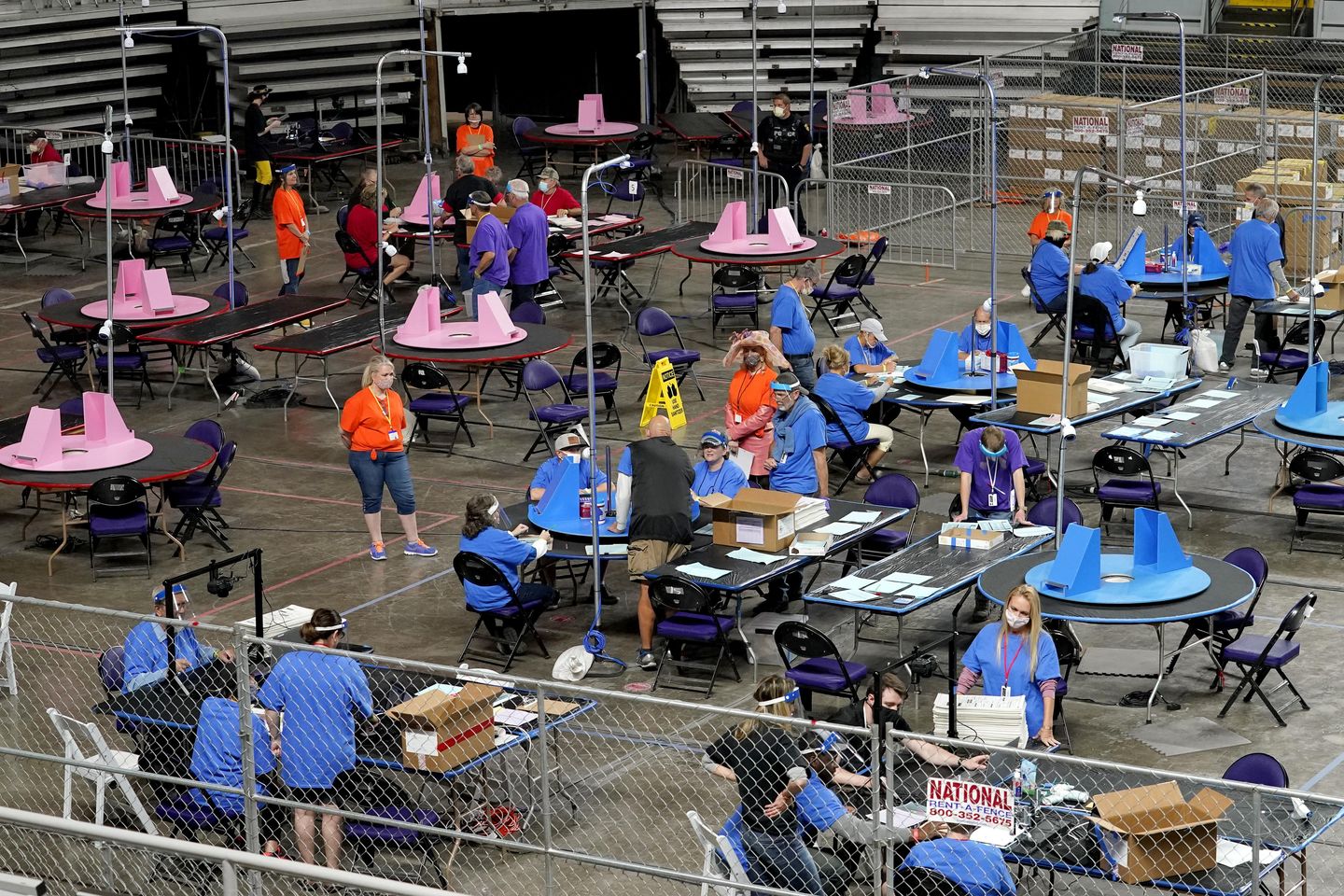 PHOENIX. The left-wing watchdog group on Wednesday announced a settlement of more than $150,000 in a lawsuit against the Arizona Senate, which has fought to keep emails, text messages and other records relating to partisan scrutiny of the 2020 election.
American Oversight, which promotes government transparency, will receive $153,000 from the State Senate. Under the agreement, which both parties originally signed in March, they mutually absolve each other from legal action. The agreement also states that the settlement is not indicative of any wrongdoing.
The lawsuit also extended to Cyber ​​Ninjas, a now-defunct Florida firm that led the Senate review of ballot-counting machines, computers, and ballots in Maricopa County.
Shortly before the settlement was signed, lawyers for the Arizona Republic argued that some of the records held by the Senate should still be public.
American Oversight said in a statement that the whole ordeal was worth it "in time to provide much-needed transparency" to the audit.
Corey Langhofer, a Senate attorney, did not immediately respond to a voice message asking for comment.
In 2021, the Republican-led Senate initiated a review after Joe Biden was declared the winner in Arizona over then-President Donald Trump, sparking unsubstantiated allegations of fraud and other campaign collusion.
Shortly thereafter, American Oversight filed a lawsuit.
Between various lawsuits and court rulings, the Senate released over 20,000 entries. But legislators also held on to some documents, justifying it with legislative privilege.
In August, the Arizona Supreme Court sided with the Senate, ruling that emails and other documented communications are confidential.
A Senate audit found no evidence of widespread electoral fraud in Maricopa County.
Copyright © 2023 The Washington Times, LLC.